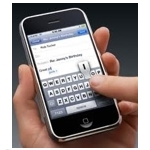 Are people getting compulsive about their smartphones? The results of a survey released yesterday by mobile app developer Lookout suggests so.
Analyzing trends in emotions and behavior related to smartphones in its "Mobile Mindset Study,"
Lookout found that as people increasingly come to rely on their smartphones, they are increasingly checking them while in bed, in the bathroom, at the dinner table and while driving.
According to the results of the survey:
58% of smartphone owners said they don't go an hour without checking their phone
54% of smartphone owners said they check their phones while lying in bed: before they go to sleep, after they wake up
Nearly 4 out of 10 people (39%) check their phones while using the bathroom
Growing usage is also challenging existing etiquette, according to Lookout:
30% check their phones during a meal
24% check their phones while driving
Nearly 1 in 10 (9%) check their phones during religious services at a house of worship
There's even a psychological term that's been engendered as people's attachment to mobile phones grows to the point where extreme fear sets in if they're without one: nomophobia.
Lookout's survey found that 94% of people are concerned about losing their phone
When asked to select which feeling they best identified with when they lost their phone, 73% reported feeling "panicked" and 14% reported feeling "desperate"
"Our phones are our lifeline, from sharing photos with social networks to shopping and managing bank accounts," said Alicia diVittorio, Lookout's mobile safety advocate. "The findings establish that our attachment to smartphones is driving a new mobile mindset. Our behaviors, emotions and social interactions are impacted by smartphones, to the extent that they now play an important role in our value systems."
When it comes to protecting mobile phones, Lookout has the following recommendations:
Don't lose it: Keep your smartphone in a zipped pocket or bag when you're on the move and scan your area when leaving public places to make sure you don't leave it behind
Keep your power: Make sure you charge your battery before you leave the house or keep a charger in the car – not only will it keep your phone alive, but it will help to track it down if you misplace it
Keep it safe: Download an app like Lookout so you can find your phone if you lose it, lock & wipe your data if it cannot be recovered and backup your personal information