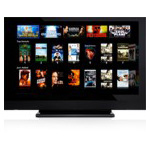 TVs or PCs? Growth trends for watching free or paid-for streaming video on these alternative consumer electronics (CE) devices are on divergent paths, a development highlighted in a new report from The NPD Group. The number of consumers reporting that TV was their "primary screen" for viewing paid and free streaming over-the-top (OTT) video via the Web rose from 33% to 45% over the past year. The corresponding figures for PCs showed a decline from 48% to 31%.
The latest statistics not only indicate viewers' strong preference for watching TV programs and movies on big-screen TVs; according to NPD analysts, it indicates that more of them are connecting the fast-growing number of smart TVs to the Internet.
Purchase and installation of "millions of Internet-connected TVs is changing the way that consumers access and view streaming video," NPD states in a press release. Totaling more than 29 million units, 12% of the U.S. installed base of consumer TVs were smart, connected TVs as of 2Q, according to NPD's latest "Digital Video Outlook."
Roughly 10% of U.S. consumer households own at least one connected TV, with 43% of connected TV users using them to access online entertainment, including online video, music and cloud services.
Netflix Watch Instantly dominates the market for OTT application services for Web-to-TV video streaming, NPD found. Forty percent of those viewing online video via TV sets use Netflix to stream online video, 12% use HuluPlus and 4% connect to Vudu.
"The growth in connected TVs is another sign that online video is maturing," said Russ Crupnick, senior vice president of industry analysis for The NPD Group. "Streaming video has moved from the dorm room to the living room; and, as more households obtain and connect TVs to the Web, we predict increased trial and engagement for video distribution services."
NPD also found that upon installing connected TVs, nearly 1-in-5 viewers stopped using peripheral devices, such as streaming media players, video game consoles and Blu-Ray Disc players to stream online video, a development that "could impact the usage models and utility of peripheral devices."