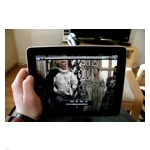 The three 'smart' mobile consumer electronic (CE) device form factors – smartphones, tablets and notebook PCs – will grow at a constant annual growth rate (CAGR) of 25.7% through 2015, far outdistancing growth in the broader, overall mobile device market, forecast to grow at an 8.7% CAGR over the period, according to research from NPD In-Stat.
Dubbing smartphones, media tablets and notebook PCs "magnet platforms," these mobile CE devices will lead the way forward to mass adoption of a wider range of network-connected 'smart' CE products, including smart TVs, DVRs and home appliances, according to NPD In-Stat. "The technology driver of all these smart devices is the mobile technology, because it represents the largest and fastest growing segment of the entire electronics market," commented chief technology strategist Jim McGregor.
"The innovation of the mobile market is being driven by four key factors: richer content, network access for communications and content, increased bandwidth to enable this access, and new technologies. These four factors form a self-sustaining circle of innovation that feeds from and enables each factor."
Highlights of NPD In-Stat's "Mobile Graphics: Smartphones Beat the Drum to Which All Markets March," include:
The mobile SoC TAM (System-on-a-Chip Total Available Market) will exceed 3.1 billion devices in 2015.
Only 40% of the mobile SoC TAM will use at least one dedicated GPU (Graphics Processing Unit) in 2011. It is important to note that both the number of SoCs using GPUs and the number of GPU cores per SoC is increasing throughout the forecast period.
Intel and Imagination lead the GPU market because of their dominance in PCs and smartphones, respectively. Combined, the two are projected to comprise 61.3% of the GPU technology mobile serviceable available market in 2011.
Smartphones will increase from just under 20% of total handsets in 2010 to 43% in 2015.
Image courtesy of flickr user Ben Dodson.