Smart home devices are very popular and can contribute mightily to satisfaction with multi dwelling unit living, according to a white paper from Parks Associates and Cox Communities.
The study found that 58% of condo owners own and use smart home devices, compared to 41% of all U.S. Internet-enabled households. Condo owners also use security monitoring at twice the rate of single family homeowners.
"Smart Living: Elevating the Resident Experience" says that 83% of multiple dwelling unit (MDU) residents with access to smart home to property-provided smart home devices are satisfied with their apartment or condo. The satisfaction rate is 66% for those without such devices.
The three most important amenities for those who live in apartments and condos were contactless access to property/unit, community Wi-Fi and faster or more reliable internet services.
The strong interest in internet connectivity may be related to the finding that 36% of apartment renters and 59% of condo owners work at home.
Some MDU dwellers are finding mobile apps provided by MDU properties to be useful. The most popular function is to pay rent (about 60%), followed by contact property staff and request maintenance, both of which were selected by more than 40% of those who use the apps.
The apps also are used to see energy usage/bills, unlock doors/gates, admit/register guests and control smart devices in the unit.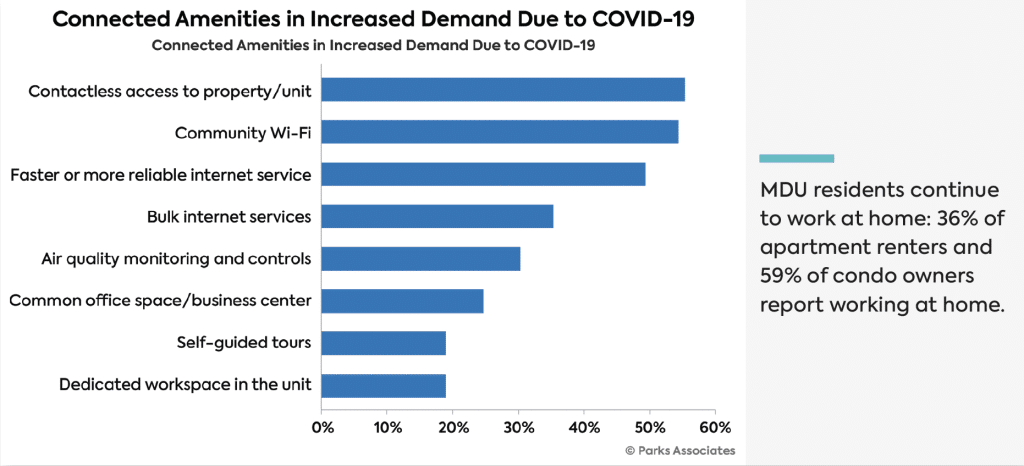 "A robust property network, managed Wi-Fi, and a smart living experience form the foundations of a premium resident experience," Kristine Hedlund, the Director of New Development & Major Accounts for Cox Communities, said in a press release. "Property owners and managers recognize that by investing in these technologies and amenities, they can enhance resident satisfaction, decrease vacancies, and reduce turnover costs."
In July, 2021, Parks Associates found that 40% of MDU renters were interested in having broadband and rent bundled and that 77% of these respondents would pay higher rent to be able to do that.