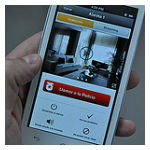 The home security sector is experiencing flattening recurring monthly revenue (RMR) growth as adoption of interactive services has passed the 50% mark, according to new smart home monthly revenue research from Parks Associates.
"Today, over three quarters of new security subscribers have interactive services, paying $9 per month on average for the service," said Tom Kerber, the Senior Director of IoT Strategy for Parks Associates in a press release. "As adoption of interactive services matures and new entrants with low-cost, self-installed systems put downward pressure on RMR, the industry is seeking solutions to expand RMR. Cybersecurity services, video verification, and personal emergency response are a clear path to generating incremental RMR."
The firm's report, "360 Deep Dive: Driving RMR Growth with Add-on Products & Services" found that 57% of U.S. home security subscribers have interactive services. However, only 23% have integrated smart home devices.
The reason for the disparity may be that these features can add $15 to system costs, according to Parks. Researchers note that some providers are attempting to mitigate this through financing options such as  Vivant's Flexpay.
Smart Home Monthly Revenue Research
The press release about the smart home monthly revenue research offered other findings from the report:
50% of current subscribers will purchase add-on video verification for $10 per month.
More than 20% of current subscribers are very interested in both vehicle monitoring and tag tracking services.
Only 37% of new subscribers have an integrated smart home device.
The profile of home security is rising, however. The J.D. Power 2018 Home Security Satisfaction Study found that the sector scored an 834 out of 1,000 points. That is an increase of 3 points compared to last year and makes it the fourth highest rated industry the firm studied in 2018.
One element of the rising popularity is all-in-one networked/IP cameras. Parks said in September that about 7.7 million of the devices will be sold in the United States this year. Revenue from these sales will be $889 million, Parks said.