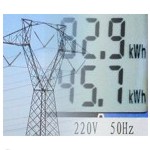 The global market for smart hardware, software and services will grow at a 17.4% compound annual growth rate (CAGR) from 2010-2015, with total spending reaching nearly $46.4 billion in 2015, according to a new IDC Energy Insights report. Smart grid investments will grow fastest in Asia-Pacific, increasing at a 33.7% CAGR for the five-year period.
In its report, "Worldwide Utility Smart Grid Spending Forecast, 2010-2015," IDC Energy Insights aims to help smart grid project developers top investment priorities across world regions by identifying 14 smart grid project types. Data from these are broken out based on technology type (hardware, software and services), utility ownership (government or investor-owned), and whether the utilities are electric or a combination of water and electric.
While utilities share manifold, common aims by investing in smart grids– improving grid reliability, supporting distributed renewable energy supply, integrating demand-side response and improving energy efficiency among them–operating environments vary widely across regions, IDC Energy Insights points out.
"Utilities across the globe share the same or similar pressures and business drivers to make ICT (information and communications technology) investments in smart grid infrastructure. However, differences in regional investment profiles are stark in some cases, driven by differences in government mandates, environmental regulations and private sector support," according to the press release.
Hence, IDC's report is organized along four global regions: North America, Europe, Asia Pacific and Latin America. Investment in advanced metering infrastructure (AMI) and smart meters is already well advanced in North America, where there are "high expectations for demand response for 2014." Distribution automation investments in the region will be focused on feeder automation, volt/var optimization and automated fault restoration, according to the report.
In contrast, smart meter and AMI investments will fuel smart grid growth in Europe and the Asia-Pacific "as major project deployments begin later in the forecast period as Europe eyes its 20-20-20 goals (20% increase in energy efficiency, 20% reduction of CO2 emissions, and 20% renewable energy generation sources by 2020). In Asia Pacific, the smart metering torch is being carried by China, with a goal of deploying 300 million smart meters by 2020," the report authors write.