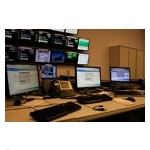 Smart grid managed service revenues will increase from $470 million worldwide in 2010 to nearly $4.3 billion by 2015, according to a new report from Pike Research titled "Smart Grid Managed Services." And some of that growth will be seen this year when Pike expects to see smart grid managed service revenues of $821 million, a 75% growth rate over 2010.
"Operating the smart grid will require a set of capabilities and human resources that many utilities have not needed in the past," said Pike Research analyst Marianne Hedin in a news release. "Smart grids are significantly more complex in terms of IT and communication systems infrastructure, in addition to the business processes required to support it. Especially with many of their engineers nearing retirement age, a number of utilities will increasingly turn to managed services providers for ongoing assistance."
Four major factors—economic, environmental, social and technological—are driving the move to smart grid and smart grid managed services, the Pike researchers said in an executive summary of the new report. Not surprisingly, they said economic factors tend to be one of the strongest drivers. "Utilities are motivated to deploy smart grid technology in order to reduce their operating costs through improved process and technology efficiency and mobile workforce management," the researchers wrote.
Managed service providers, the researchers said, are emerging from several different categories of companies, including telecom companies such as Alcatel-Lucent, AT&T,  Ericsson and Verizon;  as well as large traditional IT companies, smart grid companies and application outsourcing providers. The Pike researchers believe there will be room for many companies to have success in this market. Success factors, they said, include "domain expertise within the utility sector, mix of IT and operations technology capabilities and the ability to address customer relationship management needs among utilities."
Assuming those success factors are correct, telcos would appear to have a good shot at succeeding as smart grid managed service provider.  Most of them are strong on IT and operations technology, as well as CRM. Some of them may lack strong expertise within the utility sector, but that's a need they should be able to fill through some strategic hiring—a move we already have seen some carriers making.
The new Pike Research report underscores the finding of another recent study from Lux Research, which projected a rising need for companies to analyze the volumes of data that will be generated from smart grid deployments.
Image courtesy of flickr user Docklandsboy