Small independent telcos increased rural network investment "slightly" in 2021, according to a new report that will be released soon from accounting firm FORVIS. This was true for companies with annual revenues below $2.5 million and those with revenues exceeding $25 million and for all companies in between, according to a results summary published on the FORVIS website.
The average rural network investment per line for 2021 was $17,400 per access line for the 168 small rural telcos that responded to the 2022 FORVIS Rural Telecommunications Benchmark Study.
Rural network investment may have increased, at least in part, because of broadband grants, which were received by 69 of the respondents. In total, the 69 rural telcos received $336 million in federal, state and local government broadband grants.
Through 2022, the average broadband grant award was $2.5 million, but 11 companies received grants totaling over $10 million each.
Internet revenues now represent 23.7% of the average small telco's revenues, up from 5.6% in 2001, according to the FORVIS benchmark study. Over the same period, voice revenues dropped from 16.7% of total revenues to 6.9%.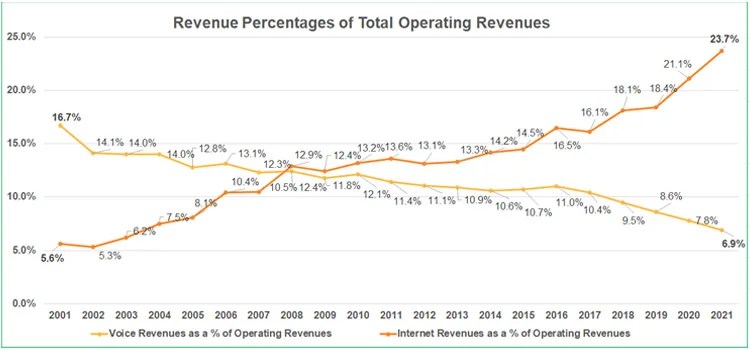 While broadband internet revenues have gone a long way to make up for lost voice revenues, their impact on profit margins has not been commensurate.
Operating margins were 23.2% of revenues for the average small telco in 2001 but are now just 16.7% of total revenues. Margins have improved in recent years compared to their low point of 10.3% of revenues in 2010, however.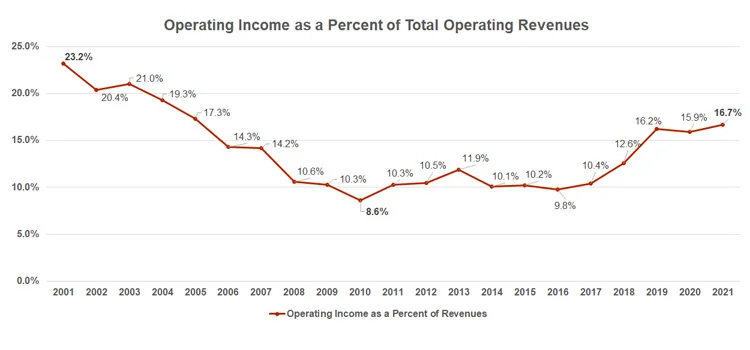 ACAM is Popular
Other interesting data points on rural telcos from the benchmark study summary:
42 of the respondents had investment income exceeding $1 million for 2021
93 companies receive Universal Service Fund (USF) support through either ACAM I (49 companies) or ACAM II (44 companies).
As of 2019, companies electing ACAM had higher operating income as a percentage of revenues (18-19.8%) than carriers that remained on the legacy rate-of-return USF program (13.4%).
As of 2021, however, that gap had nearly closed. Operating income for the ACAM carriers averaged 15.6-19.3% of revenues, while operating income for carriers on the legacy program was 15.3% of revenues.
FORVIS was created through the merger of accounting firms BKD and DHG. The former company did similar benchmark studies beginning in 2018.