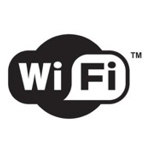 Incorporation of Wi-Fi functionality into small-cell base stations "will be a game changer for cellphone service providers," affording them the means to offload traffic from heavily congested channels while "linking together billions of devices into a single network architecture," according to a new report from IHS.
IHS expects large-scale deployment of small cell Wi-Fi base stations to begin in 2014. As IHS explains, deploying small cells, also known as metro cells, affords service providers a means of supplementing network coverage and capacity in heavy-traffic and dense urban areas.
Being low power base stations capable of supporting wireless telecommunications of between 100-200 users simultaneously, small cell Wi-Fi base stations are likely to be "installed in public facilities, such as malls, railways and subway stations, the sides of public buildings, and on street or traffic lights."
A radio network controller will enable small cell Wi-Fi base stations to communicate with a core network in order to optimize distribution and use of wireless spectrum resources between micro and macro networks and the small cells.
While small cell base stations are envisaged as primarily outdoor solutions, femto base stations will complement them indoors, according to IHS. "Both solutions will coexist alongside each other, as well as with macro and micro base stations and also with Wi-Fi access points – all in order to provide a heterogeneous network architecture.
"By combining the different elements of just such an architecture, wireless carriers can use small cells to deploy optimized solutions tailored to the coverage and capacity requirements of networks and their different locations," IHS' Jagdish Rebello, Ph.D., director for consumer & communications, was quoted in a press release.
"For entrepreneurs, intellectual-property firms and wireless providers, the offloading approach also affords them an opportunity to develop a unique 'network of networks,' which can deliver seamless handoffs as users move from cellular to high-bandwidth personal networks like Wi-Fi."
Rapid growth in the installed base of Wi-Fi connected device systems worldwide has paved the way forward for cell providers to deploy small cell base stations, IHS notes. "Wi-Fi is becoming ubiquitous and spurring new opportunities, including the capability for wireless service providers to offload chronically clogged 3G and 4G cellular networks into heterogeneous architectures," IHS senior principal analyst and subject matter expert for wireless Steve Mather commented.
"Such architectures will involve a combination of macro and micro base stations, coupled with low-powered small cells and enterprise femto cells. This approach overall will reshape the connected world by linking billions of devices with free, high-speed links."
Large scale deployments of small cell base stations will eventually lead to "Wi-Fi everywhere," according to IHS.
The El Segundo, California-based market research firm expects shipments of Wi-Fi chipsets to reach 2.14 billion units this year, up 20% from 1.78 billion in 2012.
Shipments have been growing at double-digit rates since at least five years ago and will carry on until 2016, at which point IHS expects a dip down to 9%. "By 2017, Wi-Fi chipset shipments will amount to 3.17 billion units," IHS forecasts.
Some 18.7 billion Wi-fi chipset units will be shipped overall between 2011-2017, nearly all of them the 802.11n version. With a world population of around 7 billion, Wi-Fi chipset units will outnumber humans by more than 2 ½ times, according to IHS.
Many of these chipsets will wind up in mobile handsets. Nearly 1.2 billion mobile handsets of a total 1.9 billion cellphones produced by 2015 will include Wi-Fi functionality, IHS predicts. Some 70% of handsets sold worldwide at that time will be smartphones with embedded Wi-Fi, with that percentage reaching much higher in North America and Western Europe.
Wi-Fi chipsets will also come to be standard parts of tablets, headsets, computer peripherals and mobile PCs, IHS continues. Adding to this, some 725 million households around the world will have a Wi-Fi access point as a result of ongoing broadband penetration.