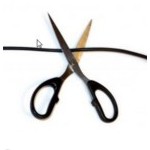 Now that major players have announced their third quarter results, financial research firm MoffettNathanson has compiled the latest data about video cord cutting – and that data raises more questions than it answers. Essentially it shows that "the pace of pay TV subscriber erosion accelerated," but "the rate of acceleration slowed sharply," according to the researchers.
Importantly, the data also shows that the cable industry made market share gains at the expense of the telcos and satellite TV providers.
Video Cord Cutting Rise
Key aggregate numbers from the MoffettNathanson data include:
The major cablecos lost 153,000 net video subscribers compared to 476,000 for the same period a year ago.
The major telcos lost 53,000 net subscribers – up from 2,000 for the previous quarter, which was the first time the telcos experienced a loss, according to the researchers. It's worth noting, though, that MoffettNathanson show that most of the telco losses came from AT&T, which shed 92,000 subscribers in the third quarter while Verizon gained 42,000 subscribers and Frontier lost 3,000. The researchers argued that AT&T is "actively de-emphasizing U-verse in favor of DirecTV."
Satellite companies also lost share for the second consecutive quarter, which MoffettNathanson called an "extraordinary development." As a group, the satellite providers lose 152,000 net subscribers. It's worth noting, though, that here too results varied between providers. While Dish lost 178,000 subscribers, DirecTV gained 26,000 – perhaps as a result of AT&T's shift in emphasis that the researchers noted. (Initially MoffettNathanson reported lower net losses for Dish, but later revised its estimates, which drove some changes in overall numbers. Our post is based on the updated numbers.)
Overall the pay TV industry lost 357,000 subscribers.
The researchers caution, though, that the situation may not be as negative for the service providers as the numbers suggest. Importantly, the researchers noted that new household formation was rather weak in the third quarter – and subscriber growth rates fluctuate with that number.
The researchers also note that they currently don't see any market forces that would cause the rate of cord cutting growth to accelerate. "The pay TV replacement services currently on the market just aren't that good," the researchers wrote. "Growth for Sling TV has already hit a wall, and PlayStation Vue never felt like much of a contender. And the content companies really may pull back on the reins. Until Apple arrives, there's no reason to think the drip, drip, drip pace of cord-cutting will change."