The security market is expanding due to do-it-yourself (DIY) products and innovative service offerings, according to a new DIY smart home survey from Parks Associates.
The firm said that the DIY approach–which features on-demand, no-contract monitoring options—will expand the market, especially among younger consumers. Nest, Ring, Samsung and ADT are mentioned in the press release as companies that are introducing more economical packages that also are helping the category.
DIY Smart Home
"Consumers value security and safety use cases, but the security market has struggled to move beyond the traditional 20% penetration level in the U.S.," Brad Russell, Parks Associates' Research Director for Connected Home, said in a press release. "Aggressive moves by companies such as Ring, which launched its inexpensive Ring Protect DIY home security system in October, will help attract new and younger consumers into the security market. Ring's pricing strategy also puts downward pressure on other players to lower prices."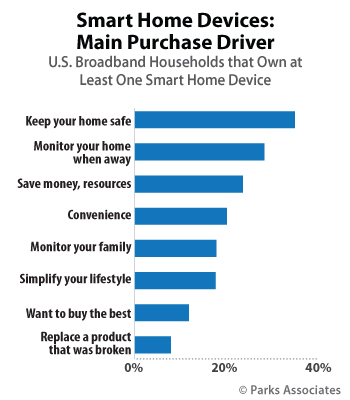 The firm found that 37% of smart home device owners hold safety as their main reason for entering the market. Thirty percent say that their primary concern is to monitor their home while they are not there. The industry, which has been around for decades, seems to be thriving in the smart home era. "Samsung and ADT have joined forces for the ADT Home Security Starter Kit, which expands the self-installable DIY segment," Russell said. "Meanwhile, hub-based security systems are an intentional strategy to stake out a controller position in the home for a variety of future device and service offerings."
The home security market has remained stagnant, at about a 20% penetration level, for many years. Telcos, cable companies and other service providers, as well as the established security firms that have the sector-specific know-how, hope that making home security one element of a bigger smart home menu of service will help it grow.
Last month, J.D. Power said that the top six finishers in the 2017 Home Security Satisfaction Study were Vivint Smart Home Security, Guardian Protection Services, AT&T, MONI, ADT and Comcast.