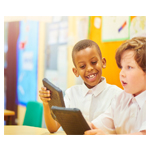 School broadband availability has increased dramatically as a result of changes made several years ago to the FCC E-rate program, with 94% of schools now providing connectivity at rates of at least 100 kbps per student, says a report released today from non-profit organization Education Superhighway. That's a big jump from 30% in 2013. The report also explores why the remaining 6% of schools are not connected and makes recommendations for how to get broadband to those schools.
The E-rate program covers a portion of school connectivity costs. Reforms made in 2014 expanded wide area connectivity options that could be covered and set a short-term connectivity goal of 100 kbps per student. The longer-term goal is 1 Mbps per student – a capability that 22% of school districts already have reached, researchers said.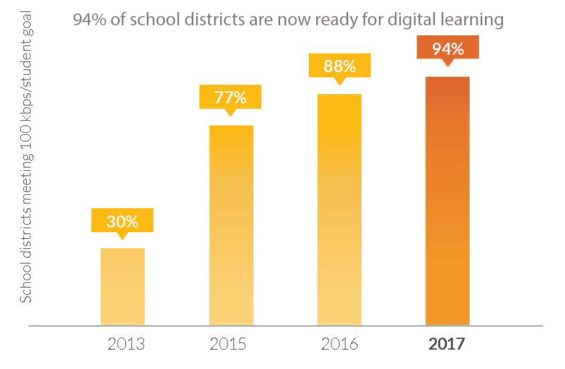 Another important example of how school broadband has improved, according to the Education Superhighway report, is that the number of schools without fiber connectivity dropped by 45% in 2017. Researchers note, however, that more than three-quarters (77%) of schools that lack fiber are in rural areas and small towns.
The Education Superhighway report  also found that the cost of school broadband has declined 78% in the last four years, dropping from an average of $22 per Mbps in 2013 to $4.90 per Mbps in 2017. Researchers attribute the price drop to FCC actions that made pricing more transparent. Schools were given access to information about the prices that other schools had paid for connectivity.
Expanding School Broadband Availability
School broadband availability could be expanded further with some relatively easy steps, according to the Education Superhighway report, which noted that:
6 million more students could be connected by ensuring that their districts get the same pricing as peer districts in their states. This represents 94% of districts, which have enough money in their budgets to purchase service at those rates.
100,000 students could gain broadband connectivity if their districts could buy connectivity at national benchmark prices, which are currently met by 60% of districts nationwide.
400,000 students are in districts that lack the budget to purchase connectivity, even at rates that other school districts in their state are paying or at national benchmarks. These districts need to invest an average of an additional $1.07 per student per year.
As for fiber connectivity, researchers estimate that 30% of schools that lack fiber could be connected at no cost if their state established a fiber matching fund. The remaining schools need an additional $104,000 per school to gain fiber connectivity, researchers estimate.
Researchers offer several ideas for expanding fiber connectivity to schools. The FCC could help by eliminating frequent rule changes, streamlining review processes, allowing service providers to dig once and pull extra fiber in E-rate funded trenches, and increasing reimbursement for covered fiber construction costs to 90% whenever states put in 10%.
Service providers also can help, researchers said. Researchers' recommendations for service providers include leveraging E-rate funds to extend fiber networks and using E-rate data to identify districts requiring upgrades.
Such investment can help reduce customer churn, researchers said. They noted that school districts meeting the 100 kbps per student goal are half as likely as those with lower-speed service to switch providers.