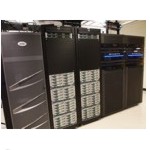 Conducting what's said to be "the industry's deepest and broadest examination of the cloud technology revolution," North Bridge Venture Partners and Gigaom Research found there has been over a five-fold increase in software-as-a-service (SaaS) adoption, to 74 percent, and a nearly six-fold increase in platform-as-a-service (Paas)" across a sample of 1,358 respondents over a four-year period.
Concluding that cloud adoption is strategic, the researchers found that nearly half (49 percent) of respondents said they are using cloud technology to fuel revenue generation or new product creation. Forty-five percent of businesses said they already run their company via cloud technology or plan to, according to "The Future of Cloud Computing, 4th Annual Survey 2014."
Saas Usage Trends
SaaS adoption more than quintupled over the four-year period, rising from 13 percent in 2011 to 74 percent in this year's survey. Migrating existing applications to cloud-compatible versions remains the main effort in the enterprise sector. Front office cloud applications are leading the way, with sales and marketing cloud adoption at 51 percent, and customer service and analytics both at 43 percent.
Indicating that PaaS and infrastructure-as-a-service (IaaS) are nearing tipping points, North Bridge and Gigaom found that 56 percent of businesses are using IaaS technologies to takes advantage of "elastic computing resources." Forty-one percent said they're using PaaS technologies to prototype and develop new applications.
Expanding the range of digital devices, and hence available data, to include mobile devices, cloud technologies are also creating a need for "Big Data" analytic tools. Two-thirds of respondents said they believe their data will wind up residing in some form of cloud over the next two years.
Commenting on this year's survey results, Gigaom Research Vice President David Card stated, "This wave of cloud computing that's revenue and new-business driven is good news for long-suffering IT execs. If they can offload tedious but necessary cost-center functions, and refocus resources on cloud-driven new business, they might be able to retake their seat at the C-table."
Added North Bridge Venture Partners' general partner David Skok, "Even though it's largely just a transition of existing apps, the first cloud front has rolled in confidently each year as existing applications transition to the cloud and are adopted as SaaS solutions. Cloud is now integral to business with 45 percent of executives saying they currently or plan to run their business in the cloud.
North Bridge and Gigaom see a second "cloud front" driving adoption to higher levels. "With over 11,000 cloud services/APIs, and developer adoption of IaaS at 56% and PaaS at 46% respectively, we are going to begin seeing the birth of new, re-imagined, cloud-native applications," Skok continued. "These applications, which are only possible in the cloud, will result in an order of magnitude greater value creation than the first cloud front. This second cloud front will be transformative."