Rural telecom financials are strong, according to a new report from accounting and advisory firm BKD based on anonymized data shared by 170 rural service providers.
On average, operating income represented about 16% of operating revenues for these companies in 2020, a dip of a few tenths of one percent from 2019 and considerably less than the 24% range that companies experienced 20 years ago, but a considerable improvement from the industry low point of 8.6% in 2010.
Interestingly, companies that opted to receive Universal Service Fund (USF) support based on the alternative Connect America cost model (ACAM) outperformed companies that remained on the legacy high-cost USF program in both 2019 and 2020.
Companies on the initial ACAM program (ACAM I) saw average operating income as a percentage of revenues of 18% in 2019 and 15.5% in 2020, while companies on the subsequent ACAM program (ACAM II) had average operating income as a percentage of revenue of 19.8% in 2019 and 20.6% in 2020.
In comparison, companies that remained on the traditional high-cost USF program based on embedded costs had average operating income as a percentage of revenues of 13.4% in 2019 and 14% in 2020.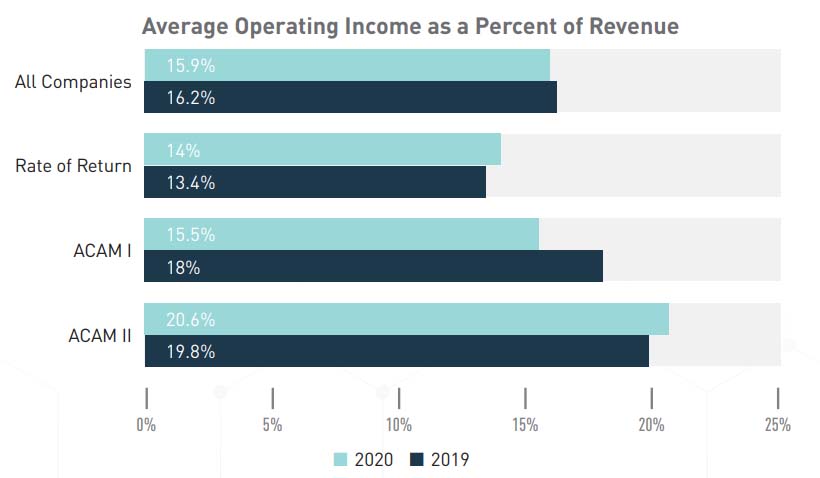 BKD did not speculate on why those companies receiving ACAM support outperformed companies remaining on the traditional program. Perhaps it is related to the fact that most companies that chose the ACAM option did so because their support level would be higher than under the traditional program.
Nearly half (47%) of rural carriers that participated in this year's BKD report are on the traditional high-cost USF program, while 28% are on ACAM I and 25% are on ACAM II. (ACAM I targeted areas lacking broadband at speeds of at least 10/1 Mbps. The subsequent ACAM II program targeted areas lacking 25/3 Mbps broadband.)
"It will be interesting to see if the companies electing ACAM can stay ahead of the legacy rate of return carriers as their build-out obligations increase in future years," BKD wrote in the report.
Rural Telecom Financials
A key challenge for rural providers over the last two decades has been replacing traditional telecom revenues, which are declining, with new revenues from the internet and non-regulated services.
According to the BKD data, the rural providers are making steady progress on that front.
Non-regulated revenues now comprise over 35% of operating revenues, up from around 15% 20 years ago. Internet revenues now comprise over 20% of operating revenues, up from 5% in 2001.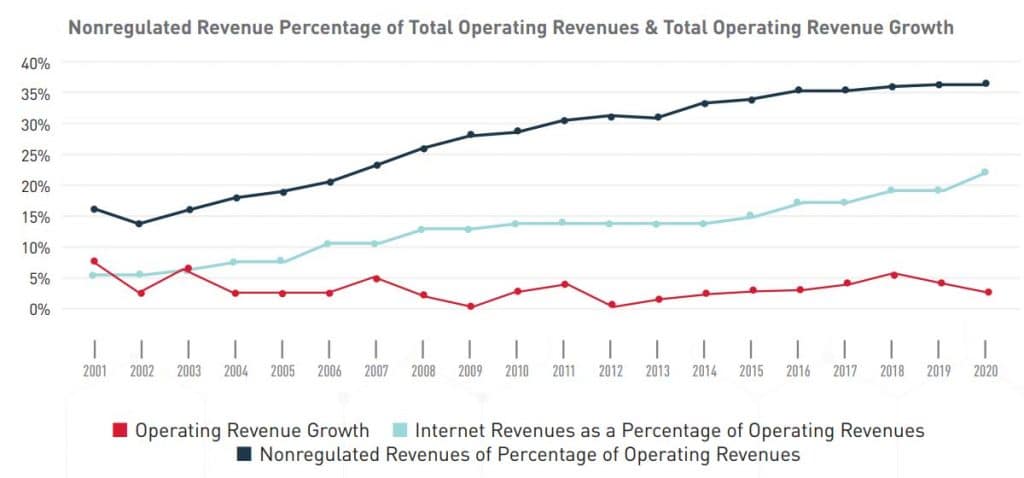 The BKD report points to a range of strong financial metrics for rural service providers.
Average total equity to total assets increased from 81.3% in 2016 to 82.6% in 2020
Debt service coverage ratio increased from 2.86 in 2016 to 5.64 in 2020
EBITDA to total operating revenue increased from 36.7% in 2016 to 69% in 2020