Rural Americans are more satisfied with their pay TV service than they have been for three years, according to a new survey from Innovative Systems. Survey respondents were more satisfied whether they were paying for IPTV, cable, satellite or streaming.
More than 400 respondents gave an average satisfaction rating of 7.8 (on a 10-point scale) with their pay TV provider, up from 7.4 in 2022 and 7.5 in 2021. The youngest group surveyed, 18-34 year-olds, who would be expected to be the least satisfied, surprisingly ranked their satisfaction nearly the same as those over the age of 55, at 7.8 and 7.9 respectively.
By a slim margin, satellite subscribers were the most satisfied, with a score of 8.
For the satisfaction survey, Innovative Systems surmised that the increased satisfaction ranking for pay TV was due in part to fragmentation of OTT streaming apps that are offered nationally, and reports that consumers are starting to feel app fatigue.
The survey was conducted by Pivot, Telecompetitor's parent company.
Among rural viewers, the importance of local TV channels in rural areas is at a high point since Innovative Systems began monitoring it eight years ago, according to a separate Innovative Software study. Respondents in that survey gave the importance of access to local programming a score of 8.6 on a 10-point scale.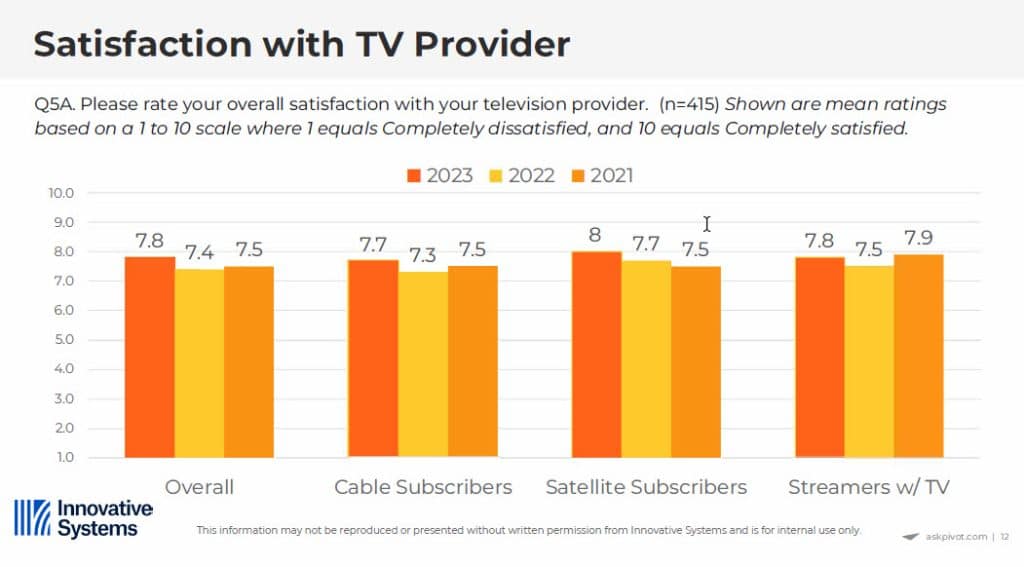 The 8.6 score compared to 8.2 in 2022 (449 respondents) and 8.0 in 2021 (522 respondents), respectively. The popularity of local channels correlated closely with respondents' age, with older viewers most likely to rate local programming as important.
The 18- to 34 year-old age group ranked local channels (7.8 in 2023, compared to 7.1 in 2022 and 7.4 in 2021. The scores for the 35- to 54-year-old group were 8.5 (2023), 8.1 (2022) and 7.4 (2021). Those older than 55 years of age scored a 9.0 (2023) and 8.8 for both of the previous years.