Lack of broadband does not appear to be a source of population decline, according to new research about broadband and rural decline from the Phoenix Center for Advanced Legal & Economic Public Policy Studies. According to report author George S. Ford, "patterns of population growth between urban and rural counties are largely unchanged over the past 50 years," even with the advent of broadband 20 years or so ago.
The Phoenix Center is a Washington DC-based think tank with a "[m]ission to provide independent assessments of the economic and material implications of regulatory and economic policy in the U.S. and abroad." The organization places heavy emphasis on the law and economics of telecommunications and high-tech industries and often publishes research arguing against the validity of municipal broadband.
Ford studied the period 1970 to 2017, looking only at counties labeled rural or urban in both 1983 and 2013. The final sample represents 89% of the total U.S. population in 2010.
He measured broadband availability as the share of homes with access to cable DOCSIS service using National Broadband Map data for 2013.
Using county-level population data from the Bureau of Economic Analysis, Ford found that the rural share of the U.S. population dropped from 19% in the 1970s to 15.5% in the 2010s. This analysis revealed that the spread between urban and rural population growth has been relatively stable, with rural areas experiencing negative growth in the 1980s and again in the 2010s.
Ford defines the Broadband Age as a period beginning in 2000. At that time, 5% of U.S. households had fixed broadband – a number that rose to 10% the following year.
According to Ford's analysis, "the growth rate differential between urban and rural areas has actually narrowed and not expanded during the Broadband Age."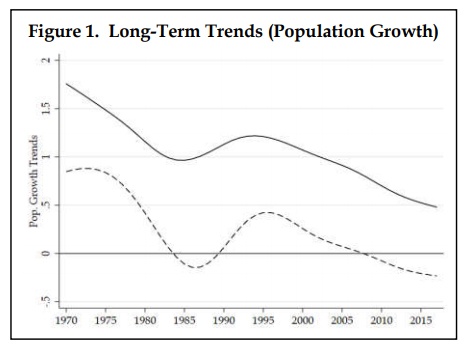 Ford cautions that more research in this area is "clearly warranted" and that his analysis should be viewed as an "initial attempt" to understand the role of broadband in urban-rural population trends. Nevertheless, he argues that "the claim that broadband will reverse rural population declines is suspect" and that "the decline in rural America's population growth appears to be other than, or perhaps more than, a broadband problem."
His analysis also argues that "public policy should incorporate this reality" and expressed concern that "a concerted effort to deploy broadband in rural areas may turn out to be a multi-bilion-dollar investment in an information superhighway to (nearly) nowhere."
I've no doubt Telecompetitor readers will have some strong thoughts on that.
Other Rural Broadband Research
It's also worth noting that some other researchers have found that broadband benefits rural areas, regardless of whether it reverses population decline.
A 2019 study from the University of Tennessee at Chattanooga and Oklahoma State found that broadband reduces unemployment and that the impact is especially felt in rural areas.
A 2019 study from the U.S. Department of Agriculture found that deployment of precision agriculture technology (which relies in large part on broadband) on farms and ranches throughout the U.S. could result in at least $47 billion in national economic benefits every year.
A 2016 study from The Hudson Institute sponsored by the Foundation for Rural Service found that rural broadband service providers contributed $24.2 billion to the economies of the states in which they operate, and that two thirds of this impact was felt in urban, rather than rural areas.
The Phoenix Center isn't the only study to be negative about the economic benefits of rural broadband, however. A 2018 report from the American Action Forum found that rural broadband does little to explain the unemployment rate, median household income, or the rate of population change in rural regions.
Image courtesy of flickr user María de los Angeles Quiroz.