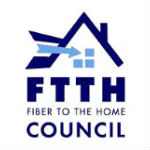 Some people scoffed when a few service providers began offering residential broadband service at 1 Gbps, but new research suggests that these offerings have garnered hundreds of subscribers in only about one year or less. Perhaps not surprisingly, those subscribers are on the Internet more than three times as many hours as the average Internet user—about eight hours per day in comparison with just 2.5 hours per day, researchers found. The research titled "Residential Gigabit Subscribers: Services, Applications and Attitudes" was conducted by Telecom ThinkTank and RVA Market Research on behalf of the Fiber to the Home Council, North American.
Early adopters of 1 Gbps service also have relatively complex networks with five or more network devices, researchers found. The researchers note, however, that complex home networks are not unusual. They estimate that 12% of Internet users in 2010 had more than 10 fixed- and mobile-connected devices.
Telecom ThinkTank and RVA Market Research identified seven service providers worldwide that have made 1 Gbps service available to 100,000 homes or more, including Chattanooga's EPB Fiber Network in the U.S., as well as four providers in Europe and two in Asia. The researchers also noted that several additional large 1 Gbps networks are expected to be deployed in 2012, including Google's Kansas City project.
Although their deployments are not large, some small rural network operators have made 1 Gbps service available to their customers, the researchers noted. But the researchers also identified certain unique challenges for rural operators.
"Among gigabit service providers, network-to-network connections, or backhaul to their Internet exchange point, vary considerably," the authors wrote. "Rural operators, who have to rent backhaul capacity, sometimes find themselves priced out of the market to offer gigabit service."
Other key findings:
• Prices for residential gigabit service range from as low as the equivalent of US $26 per month from Hong Kong Broadband to as high as $560 per month from Turkcell.
• One interesting "outlier," the researchers noted, is Sonic.net , which is operating Google's gigabit trial network serving the Stanford University community.  According to the researchers, Sonic.net set a new low per-Mbps price in the U.S. of $70 a month for gigabit service, which also includes two phone lines and in-country long-distance calling.
• Subscribers who sign on for gigabit service have found that they have to upgrade their home network and that they have computer challenges with the superfast speed, requiring computers to be reset and fine-tuned. Only the latest in-home routers and Wi-Fi systems can support a gigabit of throughput.
• Gigabit subscribers have multiple applications in play at all times. In addition to being near-continuous users of social networking, they view HD video downloads and streaming media and participate in multi-player games, among other activities.