A research report from Carnegie Mellon University recommends that the FCC use a two-layer approach to the consumer broadband labels that the commission is required to implement. The recommendation is based on a consumer survey conducted by the university's CyLab Usable Privacy and Security Laboratory.
The labels are sometimes referred to as broadband "nutrition" labels because the idea behind them is to enable consumers to easily compare critical information about competitive offerings, just as they do with nutrition labels on food items.
"Broadband labels should balance the needs of consumers who value simplicity and conciseness with those who value detailed information," says the report. "This can be achieved with a standardized label design with links to definitions of terms maintained by the FCC in a format conducive to comparing multiple plans. A layered label design with a summary and full version may help address the needs of a wider range of consumers."
FCC Broadband Labels
In the first phase of the study, the researchers asked consumers for detailed opinions about the broadband label that was initially proposed by the FCC in 2016. Consumers expressed strong support for the idea of broadband labels but struggled to calculate total service cost over two or more years using the information on the label.
Researchers used information gathered in the first phase to design a top-layer summary label as well as a more detailed lower-layer label. In general, consumers found the redesigned labels easier to comprehend, the researchers said.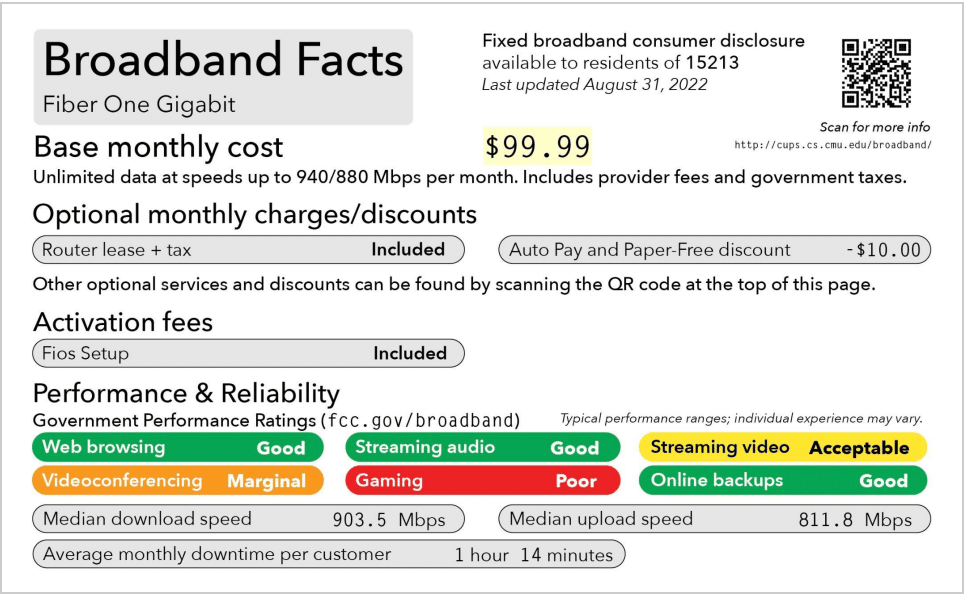 Plans for the label proposed by the FCC in 2016 were an element of the Net Neutrality rules established at that time. When those rules were subsequently reversed, plans for the label were scrapped. But they came alive again in the Infrastructure Investment and Jobs Act (IIJA) adopted late last year. The IIJA requires the FCC to implement a broadband label.
The Carnegie Mellon report recommends that the FCC "deposit detailed plan information in a standardized computer-readable form in a publicly accessible database to enable third parties to generate customized labels for consumers and offer comparison shopping tolls, quality of experience or suitability ratings and other value-added services."
The detailed-view label recommended by the researchers includes some metrics that service providers have recommended against including. For example, NTCA—The Rural Broadband Association and the Wireless Internet Service Providers Association (WISPA) have recommended against including a packet loss metric. The provider associations argue that overly detailed reporting requirements could be burdensome for smaller providers that have limited staff to meet the requirements.