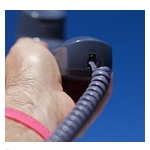 Telephone cord cutting has been an important trend in recent years, but most Americans still have a landline phone at home – and those with landline phones keep them because of their reliability, their connection quality or other reasons, according to a study released today from Public Knowledge.
"Many people still see the landline telephone as the anchor of communication services," said report author John B. Horrigan, PhD, on a conference call today with reporters about the study.
Reasons for Keeping Landline Phone
Nearly half of Americans have both a landline and a wireless phone, according to the Public Knowledge study, titled "Consumers and the IP Transition: Communications patterns in the midst of technological change."
Among that group:
Nearly two-thirds (65%) said their calls at home are mostly on their landline
82% keep their landline because they like its reliability
73% keep their landline because they like its connection quality
45% keep the landline because it works when there is an electrical outage
The report was based on a 2,000-respondent survey that Horrigan said was representative of Americans who have home Internet access. It comes at a time when policymakers are working to facilitate the modernization of U.S. telecom networks, aiming to eventually replace traditional TDM technology with IP-based alternatives and potentially phasing out copper wiring in favor of fiber and wireless connectivity.
Policy Issues
As that transition occurs, Horrigan urges policymakers not to lose sight of the capabilities of traditional phone networks on which consumers have come to rely. "Changes in technology and changes in the accompanying societal values may be two very different things," he wrote in the report. "Technological change can best serve all segments of society if stakeholders create a climate that takes into account the preferences of late adopters and the values that all Americans place on communications service."
The report noted, for example that:
96% of respondents said phone service should support 911 access
88% said it should enable users to call every other phone number in the country
59% said it should communicate the caller's location
It would seem that all of these capabilities would be encompassed in the FCC's plan to maintain four key values – including competition, public safety, universal access and consumer protection — throughout the TDM-to-IP transition. And last week FCC officials cited three of those values – everything except universal access — in reference to TDM-to-IP transition proposals that Chairman Wheeler is currently circulating. Perhaps Wheeler opted not to mention that value because he felt that previous FCC actions already address that requirement
Universal access is a particularly important issue for rural network operators, whose customers sometimes fail to receive calls because other service providers have not properly handed off the call to the rural operators.