New research sponsored by Tellabs and conducted by Strategy Analytics is among the first to put a monetary value on software defined networking. Researchers identified five mobile backhaul applications they said could save network operators globally a total of $4 billion in capital expenses by 2017.
SDN, which has been getting a lot of hype over the last two years or so, is a new approach to networking that separates the control plane from the data plane, essentially providing a higher level of centralization to network control. The most promising of the five SDN mobile backhaul applications that Strategy Analytics identified was metro aggregation/ load redistribution. This application improves performance and utilization with congestion control in the aggregation network and redirection of traffic based on end-to-end delivery criteria, Strategy Analytics explained in an executive summary of the report.
According to the research firm, using SDN for metro aggregation/ load redistribution could save network operators $96 million in 2013, rising to over $1 billion by 2017.
Other SDN mobile backhaul applications that could reduce network operators' costs according to the researchers include:
Cloud-RAN, an application that enables traffic between remote radio heads or antennas to base stations to burst at higher or lower speeds
A small cell application that changes access paths to meet varying capacity demands
Local breakout/ Internet, which allows offload of lower-priority Internet traffic directly to the Internet at the network's "wireless edge"
Wi-Fi offload/ video redirect, which offloads mobile broadband traffic to fixed Wi-Fi and associated backhaul capacity on an application-specific or user-specific basis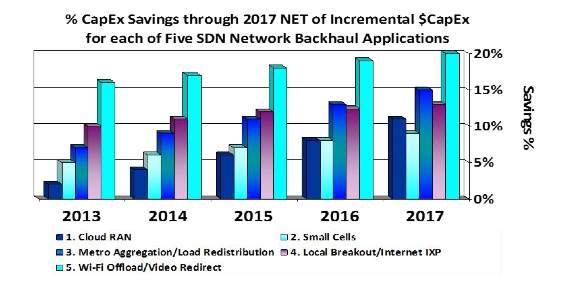 Strategy Analytics new research builds on previous research which found that if network operators' investment in mobile backhaul continued to rise at its present rate of increase, it would not be sufficient to maintain end users' quality of experience. The research firm estimated that by 2017, network operators would need to spend $9.2 billion more than anticipated to maintain QoE. If the new research is accurate, that amount would be reduced by more than 40%.
As Tellabs notes in today's announcement, SDN to date has been used primarily to optimize data center resources. Perhaps the new data about potential mobile backhaul savings could be the incentive that network operators need to deploy the technology in their wide area transport networks.
A recent Heavy Reading study predicted that 2015 would be the year when network operators begin serious SDN deployments. Whether that date will move closer in as a result of research such as what Strategy Analytics has done remains to be seen.