A new report from CoBank's Knowledge Exchange Division estimates the upfront cost of deploying a private wireless network to support precision agriculture at $50,000 per farm if deployed through one of the nation's farm supply cooperatives. The annual recurring cost per farm would be about $6,000, according to CoBank.
"Agricultural cooperatives are in an ideal position to build and deliver carrier-grade, high-speed private wireless networks to their farmer members," the report observes.
The cooperatives exist to serve the needs of their farmer members and have "institutionalized knowledge of farming operations," according to the report authors, who see private wireless networks as an opportunity for the cooperatives to develop "new and diverse revenue sources that depend less on turbulent ag commodity and fuel prices."
The CoBank report cites two key enablers of the private wireless precision agriculture opportunity. One is the availability of a large swath of CBRS spectrum, some of which is unlicensed. The other is the availability of carrier-grade equipment that can be deployed for use by a single entity.
The CoBank estimate of the per-farm cost of private wireless for precision agriculture assumes that 50 farms share network core costs of about $225,000. Considering that the average agricultural cooperative has about 1,000 members, this would mean that about 5% of the farmers in the cooperative would need to participate.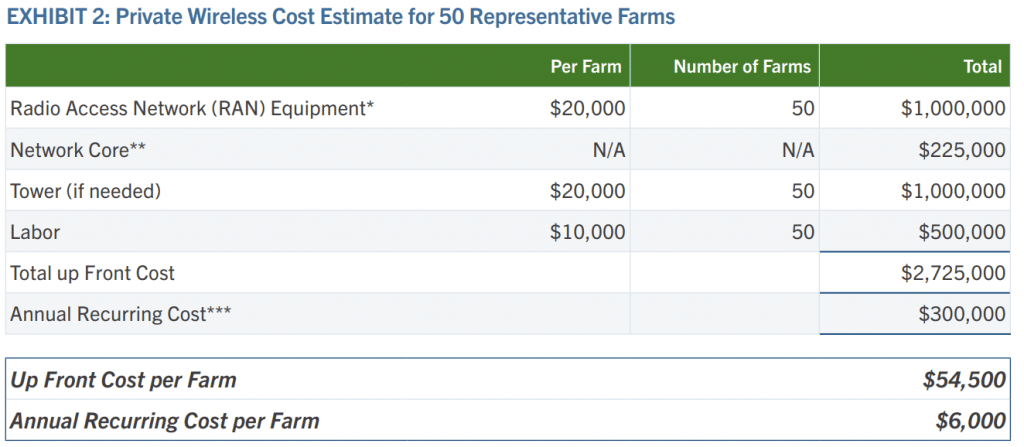 CoBank cites USDA data showing that there are about 1,744 farmer, rancher and fishery cooperatives in the U.S.
Potential Competition
Private wireless networks make sense for precision agriculture, as traditional cellular coverage tends to be spotty on individual farms and ranches. Precision ag requires farm-wide coverage to support communications between sensors located throughout the property and cloud or premises-based analytical applications such as precision spraying, planting and livestock monitoring.
If agricultural cooperatives decide to pursue the opportunity to provide private wireless for precision agriculture, though, they won't be alone in that market.
Some wireless providers serving rural areas, including Inland Cellular, already have entered the market, as has Federated Wireless. Although Federated is best known as a provider of a spectrum access system that underlies CBRS communications, the company also provides deployment and management of private wireless networks, and precision agriculture is a target market for the company.
For Telecompetitor readers, the CoBank report raises an interesting question: Is there a way for agricultural cooperatives and rural wireless providers to work together in pursuing private wireless for precision agriculture, as both parties would be able to bring important expertise to the potential venture?
I would be interested to hear what readers think about this.