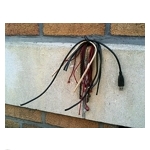 U.S. multichannel service providers posted their largest quarterly subscriber loss to date in this year's second quarter, according to SNL Kagan's 2Q'15 "U.S. Multichannel Subscriber Report." SNL Kagan's 2Q data provides evidence that the perceived risk of "cord-cutting" to pay-TV providers' is real.
U.S. cable, direct broadcast satellite and telco providers lost more than 600,000 video subscribers in 2Q, with total pay-TV households now coming in at 100.4 million when residential and commercial subscriptions are combined. Signs, including a weak 1Q, indicate pay-TV video subscriptions are likely to fall much further for the full year, possibly as much as they did between 2010-2014, according to SNL Kagan's press release.
Pay-TV Subscriber Losses
Weakness in the telco video sector, an accelerated drop in DBS and the ongoing drop in cable subscriptions all contributed to 2Q's decline. The decline in cable subscriptions slowed in the quarter. But cable's ongoing loss of subscribers continues to be the dominant driver in the overall decline, SNL Kagan points out. A decline in subscriptions for both DISH and DIRECTV added to 2Q's decline.
Highlights from SNL Kagan's latest report on U.S. multichannel subscriptions include:
The telcos increasingly appear to be trading subscriber gains for improved financials. AT&T's U-verse has aligned its strategy with DIRECTV's focus on profitability. As a result of the belt tightening, the combined multichannel video subscribers served by FiOS and U-verse were flat at 11.7 million at the end of the second quarter, behind net adds of just 4,000.
The DBS segment lost an estimated 304,000 subscribers, as DIRECTV and DISH Network both reported record declines. The DBS segment retreated to just under 34 million subs. (The DBS figure has moved from a reported total to an SNL Kagan estimate as DISH changed its financial reporting.)