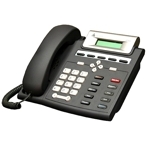 Established telcos and cable TV MSOs stand to lose small business customers to an emerging "crop of hosted service providers that will offer PBX-like voice services at lower reocurring costs and with minimal site equipment expense," according to new market research from The Insight Research Corp.
New challengers vying for telecompetitors' and cable MSOs' voice business are leveraging VoIP PBX business telephone technology and "the nearly universal availability of broadband services, which has enabled newer market entrants such as 8×8, Aptera, Fonality and Nextiva to gain market share in the small-business telecoms market segment, according to Insight Research.
"These emerging companies are providing virtual PBX/VoIP services with enhanced features into the hotly contested lower end of the business segment—and they are doing it in ways that are more competitive in terms of functionality, productivity, and pricing than the service bundles being provided by either the telcos or the MSOs," Insight states in a press release.
Some 40 million lines (the total in the small business market segment) are now effectively up for grabs. "Our study suggests that thus far, small businesses haven't quite latched on to this new technology so the revenue today is only in the range of one-half billion dollars, but by 2015 hosted services be nearly a $1.2 billion market and the adoption rate of the hosted services by small businesses will continue increasing at a faster rate," Robert Rosenberg, Insight Research president, added.
Insight Research's "VoIP and the SME: CableCos, Telcos, and the Rise of Hosted Service Models, 2011-2016" report breaks out adoption by 20 vertical industries and provides revenue estimates for each. Potential small business line losses are estimated for telcos AT&T, CenturyLink, Cincinnati Bell, Fairpoint, Frontier, TDS, Verizon, and Windstream as well as for MSOs Bright House, CableOne, Cablevision, Charter, Comcast, Cox, Mediacom, SuddenLink, Time Warner, and WOW Telecom.