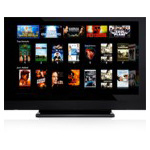 Over-the-top (OTT) streaming video has been seen as a threat as much as, or more than, an opportunity for cable and pay-TV providers, and for good reason. A new market research report covering global online TV and video revenues from Digital TV Research predicts there's much more in the way of competition and disruptive industry change, as well as strong growth, on the way.
Global online TV and video revenues over fixed broadband networks are in for "a massive increase" between 2010 and 2018, according to Digital TV Research's, "Online TV and Video Forecasts" report. Having risen from $3.98 billion in 2010 to an expected $15.94 billion in 2013, they'll surge to $34.99 billion in 2018.
Household members in some 520 million homes across 40 countries will be watching online TV and video – (paid-for or ad-supported) come 2018, the market researchers predict, up from 182 million in 2010.
"The OTT [over-the-top] TV sector is on the brink of a huge take-off as the key players expand internationally, broadband penetration increases, technology advances and as new partnerships are announced on a daily basis," Digital TV Research principal analyst Simon Murray was quoted as saying.
Online TV and video advertising has been the primary vehicle driving OTT market revenue higher, and it will continue to grow strongly, but it will be OTT subscription services where growth will be highest, according to Digital TV Research.
Online TV and video advertising revenues are expected to reach $7.4 billion this year, up from $2.4 billion in 2010, and continue rising into 2018, when they'll reach $16.4 billion, the firm forecasts.
"Advertising's share of total OTT revenues will fall from 60.6% in 2010 to 46.9% in 2018," however, as OTT subscription services, such as Netflix and Hulu Plus, expand internationally. Online TV and video subscription services (SVOD) "will soar from $1 billion in 2010 to $6 billion in 2013 and onto $13 billion in 2018," according to Digital TV Research. The number of homes with monthly SVOD subscriptions will rise from 21.9 million in 2010 to 67.8 million this year and 160.6 million in 2018.
The expected surge in OTT subscription service revenues "will stifle the pay-per-view (PPV) or rental market somewhat." Nonetheless, Digital TV Research analysts forecast that online TV and video rental/PPV will show strong growth as well, rising from $207 million in 2010 to $2,103 million in 2018.
Download-to-own revenue will also be affected but grow strongly nonetheless. Digital TV Research forecasts segment revenues will increase from $330 million in 2010 to $3,506 million in 2018.
Image courtesy of flickr user bendodson.