Just shy of one-third of those who take advantage of free OTT video trials, such as Netflix, Amazon Prime or Hulu, go on to sign up for paid subscriptions, according to new market research from Parks Associates.
Zooming in on U.S. broadband households, Parks found that nearly half (47%) of the one-quarter that signed up for free trials subsequently signed up for paid subscriptions.
As Parks' senior analyst Glenn Hower explained: "Free OTT trials are effective in converting a sizable portion of trial users into subscribers," Hower said.
"There is a potential for free trial abuse, but only roughly 1% of consumers are 'serial trialers' who abuse free trials to avoid paying for services. Most consumers use trials for their intended purpose of trying out a service before deciding whether or not to continue as a paid subscriber."
U.S. broadband households' monthly spending for OTT video services is rising, bucking a broader-based decline in spending on transactional services, Parks points out. According to Parks' latest market data, U.S. broadband households spent an average $7.95 per month on OTT video subscriptions in 2016.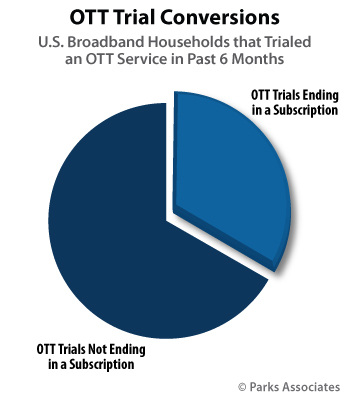 "Most households build their services around at least one of the top three services, Netflix, Amazon, and Hulu, which also show among the most effective trial conversion rates," Hower noted.
"Since there isn't much money left for niche OTT services, these services should not expect to expand beyond their particular audience niche and may also have to implement tiered services or hybrid business models to diversify their subscriber bases and generate incremental revenue wherever possible."
More than 6 in 10 broadband households (64%) subscribed to at least one of the 101 OTT video services that were available in the U.S. as of March, according to related market research Parks released earlier this month.
Netflix, Amazon Prime and Hulu continue to dominate the OTT video services' market, but that hasn't dissuaded new OTT, or cable pay-TV IPTV competitors from entering the market. A variety of new entrants, including Google's YouTube TV, are introducing live channel line-ups to expand the reach of OTT.