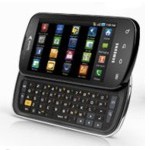 Almost 50% of American adults (46%) owned smartphones as of February this year, according to a Pew Internet & American Life survey, an increase of 11% from the 35% Pew recorded as of last May. According to Pew's latest smartphone survey 45% of cell phone owners said that their mobile phone is a smartphone, up from 33% last May; and 49% said their phone operates on a smartphone platform, up from 39% last May.
Some 88% of US adults are now cell phone owners, with over half (53%) smartphone owners. Hence, 46% of US adults are smartphone owners, while 41% own cell phones but not smartphones, Pew calculates.
There's been a corresponding shift in the types of cell phones American adults reported owning:
20% of cell owners now describe their phone as an Android device, up from 15% in May 2011
19% of cell owners now describe their phone as an iPhone, up from 10% in May 2011
6% of cell owners now describe the phone as a Blackberry, down from 10% in May 2011
The proportion of cell phone owners who said their cell phone was a Windows or Palm device remained unchanged since last May's Pew survey at 2% and 1%, respectively.
Smartphone ownership is widespread and increased among nearly every major demographic group, according to Pew's latest survey, with overall adoption levels at 60% or higher among several cohorts, such as college graduates, 18-35 year-olds and households with incomes of $75,000 or more.
Smartphone ownership levels fell or didn't grow among several groups, however. Among these were seniors, aged 65 or older, among whom 13% said they were smartphone owners, two percentage points higher than May's 11% reading. Smartphone ownership among US adults without a high school diploma rose by a relatively modest 7% over the last year, while overall adoption for this group, at 25%, remained at roughly half the national average.
Smartphone ownership also increased modestly among African-Americans and Latinos between Pew's latest two surveys, though both groups' overall adoption rates, at 49% for each, are comparable to the national average.
Smartphone ownership decreases dramatically with increasing age, Pew noted, even among adults with similar levels of education. Even younger adults with a high school diploma or less are far more likely to own a smartphone than college-educated seniors, according to the latest survey results.
Consumers are becoming more familiar with smartphone technology and terminology, Pew also found. Some 8% of cell phone owners still aren't sure if their cell phone is a smartphone, down from 13% in the May 2011 survey.