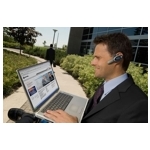 Enterprises worldwide are increasingly embracing Bring-Your-Own-Device (BYOD) and enacting policies and institutional regulatory framework to govern the use of personal devices at work, according to the results of a customer survey conducted by Good Technology, a provider of security solutions for enterprise mobility.
Companies are increasingly turning to BYOD to help streamline business processes, reduce costs and boost productivity, according to Good Technology's report, which entailed surveying 100 of its customers spanning a range of industries worldwide. "This year's report shows that BYOD continues to gain traction and those who have no plans to support BYOD are a small and rapidly shrinking minority of our customer base," commented John Herrema, SVP Corporate Strategy at Good Technology.
"This is no surprise to us since we hear every day from our customers how embracing BYOD has made their enterprises more productive, collaborative, and competitive than they ever were before. We're also seeing that BYOD is going global and that even our largest, most security conscious and highly regulated customers can safely embrace BYOD if they have the policies and supporting solutions in place to protect their business data and applications."
Key findings in Good's 2012 BYOD report include:
More Enterprises are Embracing BYOD: The percentage of enterprises formally supporting BYOD increased from 72 to 76 percent. More notably, those companies with no plans to support BYOD dropped from 9 to 5 percent.
BYOD Expands Global Reach: Companies are moving out of a U.S-only support model to extend their BYOD practices to more countries around the globe, and in multiple countries at once.
Larger Enterprises are the Most Active in BYOD: 75 percent of those supporting BYOD have 2,000 (or more) employees and 46 percent have 10,000 (or more) employees.
BYOD is NOT Hindered by Regulatory Compliance or Security Concerns: The Financial Services/Insurance and Healthcare industries continue to be among the most active industries supporting BYOD. This year's report also shows an increase in Government adoption of BYOD programs.
Employees Are Still Willing to Pay for Personal Choice: 50 percent of companies supporting BYOD require that all costs be covered by employees who are more than willing to take their employers up on the offer.
"It is clear that companies are supporting BYOD in large numbers as it gives employees the choice to use the devices that make them most productive," added 451 Research research director for mobile and wireless Chris Hazelton. "While there is a lot of focus on supporting and controlling the device, the next challenge for IT will be provisioning and securing large volumes of enterprise apps and data in BYOD deployments."