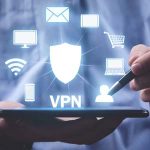 Thirty-one million mobile virtual private network (VPN) apps were installed during the first five months of 2020 and generated $23 million in revenue on Google Play Store and the Apple App Store, according to data about mobile VPN app downloads analyzed by VPN provider Atlas VPN.
Atlas VPN, basing its analysis on data from Sensor Tower, found that NordVPN had more than 87.3 million installs, the highest combined total on the two stores during the five-month period.
Downloads from individual company websites were not counted in the study. Thus, total downloads and revenues were higher.
The rest of the top ten: ExpressVPN (about 8.36 million installs), Hotspot Shield (6.1 million), Cyberghost VPN (4.1 million), TunnelBear (1.4 million), Windscribe (879,000), Surfshark (842,000), ProtonVPN (801,000), IPVanish (404,000) and Private Internet Access (341,000).
The research also looked at revenues from mobile VPN app downloads. Hotspot Shield, with a bit more than $8.8 million, was the leader. It was followed by NordVPN ($7.9 million), ExpressVPN ($2.4 million), Cyberghost VPN ($2.1 million), TunnelBear ($670,000), Private Internet Access ($541,000), Surfshark ($507,000), IPVanish ($358,000), Windscribe ($158,000) and ProtonVPN ($153,000).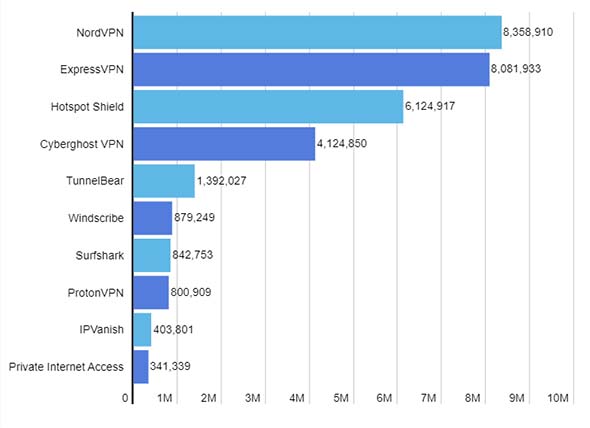 Commentary in the press release pointed to some differentiation between the vendors that accounts for the use and revenue differentiations. For instance, Tunnelbear is "typically recognized for the unique application design and user-friendly approach" while Surfshark is economical. The release also points out that Hotspot Shield is making progress and perhaps breaking the stereotype that free VPNs are not trustworthy. The market seems to be shifting toward free and low-cost VPNs, the release suggests.
Since the research from Atlas VPN about mobile VPN app downloads only explored the first three months of the COVID-19 pandemic and didn't include year-ago numbers, it is impossible to gauge the impact of the virus from this research alone. But Verizon reported a 25% surge in VPN traffic over its network during the pandemic