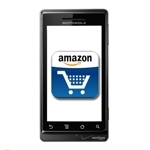 Mobile shopping is going "mainstream," according to a report from comScore. According to the market researcher's Mobile Retail Advisor Report, 38% of US smartphone owners used their mobile phones to purchase something online at least once since they've owned their devices. Digital goods, clothing/accessories, tickets and daily deals were the most popular mobile purchases in September.
eBooks, TV episodes and movies were the most popular mobile purchases within the digital goods category in September, with 47% of online shoppers purchasing them, according to comScore's report, the complete results of which will be presented in a live, complimentary webinar on Dec. 7.
According to "Handheld Shopping: How Mobile is Changing the Retail Environment," 37% of mobile shoppers purchased clothing or accessories directly from a retailer, while 35% bought event tickets.
Slightly more than 1 in 3 bought daily deals and gift certificates. More than 30% of mobile shoppers also bought electronics and food, while 29% paid for hotel stays, and 26% bought hard-copy versions of books.
"Fueled by smartphone adoption, mobile is becoming a central part in the shopping funnel for many consumers," said Mark Donovan, comScore senior vice president for mobile. "In September we saw two-thirds of all smartphone owners perform shopping activities on their phones, including comparing products and prices, searching for coupons, taking product pictures or locating a retail store.
"Considering there are currently 90 million smartphone owners in the U.S., retailers without a well-developed mobile strategy are not only missing a tremendous opportunity with these customers but also risk becoming obsolete in the minds of these digital omnivores."
Given the geo-location services built in today's smartphones, comScore was able to track where mobile purchases were made. Turns out that 56% were made from home, the most popular location. Not very mobile, really, which also suggests that users find smartphones and mobile devices more convenient than other connected device options.
Out-of-home purchases, including while at work, accounted for 42%, while 37% made mobile purchases while traveling or commuting. Just over 1 in 3 were made in a store, indicating the complementary nature of having both physical and online marketing channels and strategies in place.