Globally, mobile operators are earning less than $1 per gigabyte despite all of the money they have spent on network infrastructure, according to a new report from Strategy Analytics. Mobile revenue per gigabyte has been declining for several years, but fourth quarter of 2020 was the first time it fell below $1.
North American operators had the highest revenue per gigabyte, at about $4.50. But those operators also have experienced the downward trend.
Global cellular traffic was up 35% year-over-year in the fourth quarter of 2020, according to Strategy Analytics. Yet total mobile service revenue increased a measly 0.6%.
The increase in cellular traffic may have been driven, at least in part, by the COVID-19 pandemic. As Telecompetitor reported, only a few months into the pandemic, mobile usage was up over an hour a day.
Also impacting the meager revenue trends: the promise of 5G usage and an accompanying revenue boost is still in the future, with minimal impact so far.
Among the report's other findings:
In Finland, speed-based tiered unlimited data plans have helped increase ARPU 17% over the last five years, compared with a 15% decline across Western Europe.
5G network subscriptions increased from 2.1% in September 2020 to 3.0% in December 2020, with China accounting for 80% of global totals.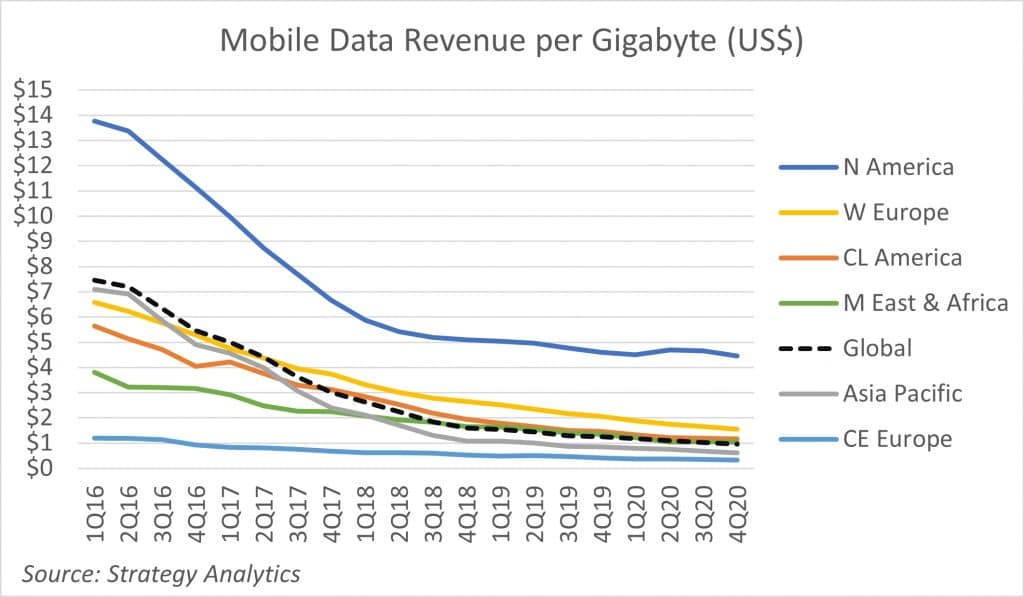 "Volume-based data pricing is going to cause a headache for many operators conditioned to utility-based revenue or cost per unit thinking," Phil Kendall, Strategy Analytics director, service provider group and report author, said in a prepared statement. about the mobile revenue per gigabyte research. "With the capacity gains offered by 5G diluting value per Gigabyte, operators need 'more for more' pricing that offers revenue uplift through better experiences and richer content rather than through more data."
"With many consumers picking price plans that fit their budget first and their data usage requirements second, operators need to educate users away from high-volume low-cost plans and the idea that 150GB is meaningfully better than 100GB," added Josie Sephton, Strategy Analytics director. "We are in a data pricing merry-go-round that needs to be reset."