Four out of ten surveyed renters of multiple dwelling units (MDUs) are interested in having broadband bundled with their rent – and 77% of those would pay higher rent for the convenience of doing so, according to a new MDU broadband report from Parks Associates.
The firm also found that 41% of all MDU residents own at least one smart home device, while only 34% of single family homes have one or more.
The difference in smart device ownership between the two groups likely is explained by the fact that consumers in the 25-to-34 year-old demographic are most likely to both adopt smart devices and live in MDUs, Parks notes.
Bulk presence of broadband may be a win-win for residents and building management. The report, which is entitled "Future-Ready Broadband: Connectivity for MDUs," says that property managers can leverage connected devices and smart platforms to streamline management tasks, lower operating costs, attract and retain residents and increase rental revenues. Indeed, Parks found that 65% of MDU builders leverage smart home technology to add value and differentiate properties.
"Consumers need broadband to live, work, learn, shop, and connect to healthcare, banking, and more," Jennifer Kent, the vice president for research at Parks Associates said in a press release about the MDU broadband report. "Social distancing during the COVID-19 pandemic has revealed consumer dependence on reliable connectivity and high-speed access, as it is the foundation for access to and quality of connected services like telehealth, video conferencing, and online fitness solutions to meet their daily needs."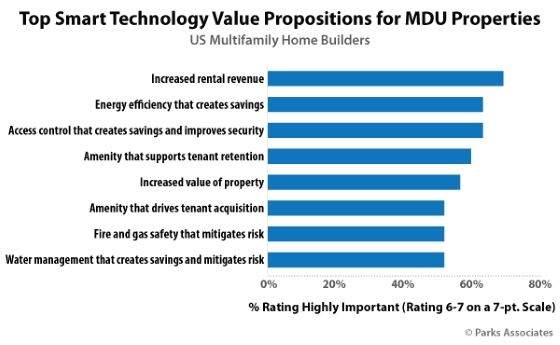 In May, Parks released research that said price is the key to significant growth in the smart home device market. The firm found that 42% of U.S. broadband households do not own or plan to buy a smart home device—but that 17% of those would be likely to buy one if prices were lower. Meeting the price requirement of those that are interested in the technology could add 7.9 million more households, researchers said.