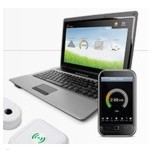 Low-power wide area networks (LPWANs) are poised to give traditional cellular networks a run for their money when it comes to machine-to-machine (M2M) and Internet of Things (IoT) connections, according to Beecham Research's ¨Low Power Wide Area Networks for IoT Applications.¨
From zero in 2015, Beecham expects low-power WANs for IoT to account for 26 percent of the overall market for IoT connectivity – 345 million connections – by 2020. "LPWANs represent the most dynamic and potentially game changing development in the M2M/IoT market," Beecham senior analyst and report author David Parker stated in a news release.
Low-Power WANs for IoT
Less costly and using less power than cellular networks, LPWANs are nevertheless able to transmit and receive data over long distances. That could give them an advantage over cellular connections, at least at this stage of market development and especially when it comes to connecting IP-enabled and other networked devices installed at hard-to-reach sites that are far from power sources.
In addition, budget constraints among cellular network operators are constraining roll-outs of connected M2M and IoT devices, Beecham noted. That only adds to the potential of LPWANs to enable a far wider range of M2M and IoT applications, Beecham highlighted.
Lower data transfer speeds are the trade-off for the longer distances that LPWANs can carry data, Parker noted. Nonetheless, he continued, LPWANs offer ¨networks optimized for machine connectivity with much lower deployment costs than traditional cellular networks."
Low-power WANs for IoT providers will compete and collaborate with cellular network operators in meeting demand for IoT connectivity, researchers predict. Having a wider variety of options will in turn stimulate market growth, Parker added.
Beecham cautioned against taking the market hype regarding ¨Big Data¨ and an alleged requirement for LPWANs to have the 3Vs – velocity, volume and variety – too much to heart. "Our look at LPWANs highlighted that there are many applications that are not big data and not necessarily real-time, interactive or immersive," commented Beecham Research CEO Robin Duke-Woolley.
"So, from a connectivity point of view, the market will move towards 4G-5G for satisfying big data IoT, while on the other side LPWANs and equivalent networks will address the low data IoT requirement."
In its report, Beecham provides analysis of the strategies and activities of key LPWAN market leaders, which include Sigfox and members of the LoRa Alliance.
How LPWANs Compare
Akin to short-range, low-power wireless protocols such as Zigbee, Wi-Fi and 6LoWAN. LPWANs for the most part carry digital data via short-range Industrial, Scientific and Medical (ISM) wireless frequency bands.
In contrast with Zigbee, Wi-Fi and 6LoWAN and similar to UHF/VHF TV White Spaces wireless transport, low-power WANs for IoT developers have been able to extend the wireless technology's range to as much as 50 km (30 miles) in rural and 5-10km (3-6 miles) in urban areas, Beecham pointed out.
"New entrants working in the ISM and TVWS bands are promoting overall market growth and providing a spur to action within the GSMA world," Parker added. "Developing standards for the cellular operating community is a slower process but the emergence of LTE-M and Narrowband IoT (NB-IOT) will allow cellular operators to compete with these new entrants on a level playing field of range, battery life and costs."
Beecham also cautioned business execs not to build IoT plans on what the market research specialist deems unrealistic, over-optimistic forecasts. ¨We have seen some staggering predictions of the number of connected devices in the next five or ten years that are simply unrealistic.
¨The risk is that new and established companies build business plans based on these forecasts and run out of funding before they have a chance to become established and see their return on investment."