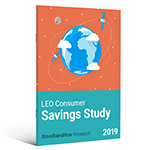 High-speed broadband based on satellites operating in low earth orbit (LEO) constellations could save U.S. consumers more than $30 billion, according to a new report from BroadbandNow. The report points to SpaceX's Starlink project and Amazon's Project Kuiper as two initiatives poised to offer LEO satellite broadband throughout a large part of the U.S.
Satellite broadband traditionally has been delivered over satellites whose positions relative to the earth do not change because the satellites operate in geostationary orbits, enabling a single satellite to cover a large area. The downside is that these satellites are a considerable distance from Earth, which adds to signal latency that can reduce the quality of real-time communications such as voice, video and gaming.
LEO satellites and other non-geostationary orbit (NGSO) satellites have lower latency because they are closer to earth, but each satellite covers a smaller area, requiring a larger number of satellites to provide the same coverage of a single geostationary satellite.  SpaceX, a venture started by famed entrepreneur Elon Musk that also owns and operates rockets, plans to launch 4,425 satellites to support its global broadband offering. Amazon's Project Kuiper has similar ambitions.
LEO Satellite Broadband Economic Impact
BroadbandNow maintains an extensive database of information about broadband availability and pricing nationwide. The company's research shows that average pricing declines as the number of providers offering service in an area increases, and the researchers used that data to estimate the potential savings that LEO satellite broadband could generate.
As an example, a chart included in the report shows that the mean lowest price for broadband in areas where only a single provider offers high-speed service is $68.38, but that price drops to $58.83 when there are three providers in an area and drops to $46.59 when an area has five or more providers. High-speed broadband is defined as service providing speeds of at least 25 Mbps downstream and 3 Mbps upstream.
The estimate that LEO satellite broadband service could save U.S. consumers $30 billion is based on extrapolating the impact of two additional high-speed broadband providers on U.S. households, BroadbandNow said. If only a single LEO satellite broadband provider launches, the estimated savings is $18 billion.
A map included with the report shows the density of broadband providers throughout the U.S., with red indicating high-density areas and yellow indicating low-density areas.
It's worth noting that SpaceX and Amazon are not the only companies with LEO satellite broadband plans for the U.S. OneWeb also plans to launch a constellation of LEO satellites to provide service worldwide, although it isn't clear if the company plans to make service at speeds of 25/3 Mbps available to every U.S. household.
Some other companies, including Canada-based Telesat and European operator LeoSat, also have been approved to offer NGSO satellite broadband in the U.S., but how extensive those plans are isn't clear.
The NGSO satellite broadband category includes LEO and medium earth orbit (MEO) satellites. The latter group includes NGSO satellites operating at greater altitude than LEO satellites.