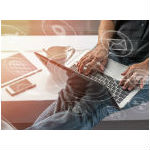 Customer satisfaction with their internet service providers (ISPs) increased 4.8% over last year, according to the American Customer Satisfaction Index (ACSI). Despite the increase, however, ISP customer satisfaction was the second worst of 46 industries that ACSI studies.
ISPs' average satisfaction score in this year's ACSI Telecommunications Report was 65 on a 100-point scale. Historically the category has ranked among the lowest of ACSI industries.
ACSI researchers looked at 11 ISPs this year, of which eight saw increases in satisfaction. Altice/Suddenlink saw a 5% drop and AT&T saw a 1% drop, while Frontier's ranking remained unchanged.
Verizon Fios had the highest ranking among ISPs with a score of 73, an increase of 4% over last year. Despite its 1% drop, AT&T had the second highest satisfaction ranking at 68. It was followed by Comcast Xfinity at 66, which represented an impressive 8% increase over last year.
"According to customers, Xfinity staff are making a difference as in-store transaction speed is the most-improved factor of the customer experience," ACSI wrote.
Altice's Optimum service was fourth at 65.
Four ISPs saw customer satisfaction increase 7% or more, including CenturyLink, Spectrum/Charter, Windstream and Comcast Xfinity.
ISP Customer Satisfaction Drivers
The overall upward trend in ISP customer satisfaction was driven by small increases in every one of 14 criteria measured.
The criteria that received the highest ranking was mobile apps, whose quality score increased from 77 to 79 and whose reliability score remained unchanged at 77. Next came "courtesy and helpfulness of store/service center staff," which rose from 75 to 76.
The biggest increase was in website satisfaction, which scored 75 in comparison with 72 last year.
The criteria with which customers were least satisfied were call centers (61), variety of internet plans (67) and "ability to keep service interruptions and outages to a minimum" (69).
In-Home Wi-Fi
This year for the first time, ACSI looked at ISPs' Wi-Fi offerings in comparison with third-party equipment. The third-party equipment ranked higher on all seven criteria measured.
The highest rankings were for third-party security, range, reliability and ability to simultaneously handle multiple connected devices, all of which received a score of 75. In comparison, ISP-provided equipment scored 74, 72, 71 and 72, respectively.
The biggest gaps between ISP Wi-Fi and third-party Wi-Fi were for restarts after loss of service and price paid (including other hardware required for service). While third-party equipment scored 74 and 72, respectively, ISP equipment scored 69 and 66.
Among those customers who use ISP-provided Wi-Fi equipment, Verizon Fios had the highest Wi-Fi quality ranking at 77. It was followed by Comcast Xfinity at 72 and Cox at 71. The lowest-ranked companies were Windstream (69) and Frontier (62).