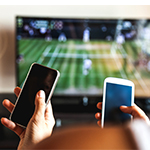 People who use their smartphones to watch more than six hours of video per week are more likely to cut the cord during the next year than those who watch 2.5 hours, according to Parks Associates.
The report, "Examining Broadband Cord Cutters," suggests that fixed broadband providers without mobile services may suffer more from cord-cutting. This possibility, Parks says, has led Comcast and Charter to introduce mobile services.
"Roughly 10% of broadband subscribers are likely broadband cord-cutters, with half of them highly likely to make the change in the next 12 months," Brett Sappington, Senior Research Director and Principal Analyst, Parks Associates, said in a press release. "Many are satisfied with their current provider overall, but these subscribers are aware of the other options available to them and could become actual cord-cutters if their current service does not continually meet their needs."
Sappington said cord-cutters are likely to watch an hour per week more live TV and live streaming than average broadband households. Emerging wireless 5G and 10G fixed broadband will be attractive to these subscribers. That, in turn, will drive uptake of the newer technology among providers.
A graphic in the press release shows that highly likely cord cutters watched more video weekly in four other categories, in addition, to live TV and live streaming. They outdistanced the broader category of U.S. broadband households in viewership via of on-demand video from their mobile phone operator, video files stored on their device, on-demand online video and OTT via a service or app.
Tracking where cord-cutters are going is tricky. In May, analyst and research firm MoffettNathanson said that only 40% of the 1.4 million traditional linear pay-TV subscribers lost during the first quarter of this year were picked up by the equivalent OTT service, which are virtual multi-video programming distributors (vMVPDs), and their offerings include Hulu Live, YouTube TV, DirecTV Now, Sling TV and others.
Direct to consumer offerings may be a growing trend attracting these viewers, the company suggests.