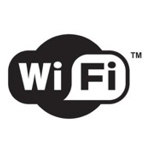 Austin, Texas-based iGR forecasts that home WiFi bandwidth use will more than double in the next four years. Eighty percent of U.S. homes are using WiFi to connect an rapidly increasing number of devices to the Internet, iGR notes, and has become a "must have."
WiFi bandwidth will increase from 55% of total bandwidth used in 2011 to more than 75% in 2015. WiFi bandwidth usage among so-called "extreme," the heaviest, users is expected to rise from more than 390 gigagbytes (GB) per month this year to nearly 440 GB per month in 2015. Demand for video, both streamed and downloaded are the principal drivers.
Rising WiFi bandwidth demand has important ramifications for telecompetitors and other industry participants, according to iGR. Users have become accustomed to high-quality wireless data connections in the home and are increasingly accustomed to engaging in bandwidth-intensive activities online using a variety of devices – laptops and notebooks, smartphones and now tablets. All this is "a precursor to outside- the-home usage," iGR says.
"Why should wireless operators, infrastructure vendors and device OEMs care about how much WiFi is used in the home? Because today's consumers are expecting a world in which they always have high-speed data access to anything they want," commented Matt Vartabedian, iGR's vice president of the wireless and mobile research service.
"Internet and data access is inextricably woven into the personal, social and business fabric of today's life. And WiFi is setting expectations by which consumers will judge the performance of 4G, HSPA+ and LTE networks, devices and services."
Also among the key findings in iGR's "U.S. Home Broadband & WiFi Usage Forecast, 2011‐2015," are:
Older consumers are the least likely to use WiFi.
Middle-aged consumers are more likely to use WiFi in airports, hotels. These are likely to be business travelers.
Smartphone ownership tends to drive more WiFi usage — conversely, consumers who do not have smartphones are least likely to use WiFi.
Consumers with smartphones are more likely to use WiFi in various locations. Everything that applies to smartphone users also applies to WiFi use: for example, they tend to be in their 20s, 30s or 40s; they tend to be employed or, in some cases, in school; they tend to have reported annual household incomes that are above the U.S. median.
Tablet users, by default, are the most likely to use WiFi in any given location. As discussed in other iGR research studies, tablet users are almost always smartphone users.