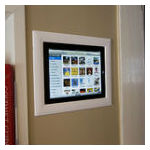 Competition in the home automation and control services market is going to intensify significantly in coming years as telecompetitors worldwide look to over-the-top (OTT) delivery to expand their geographic reach and gain market share, according to a new report from Infonetics Research.
More than 70% of broadband operators participating in a global Infonetics survey said they would offer home automation services by the end of this year. The percentage offering OTT home automation services will more than double by 2015, according to Infonetics' 2013 "Home Automation Service Strategies: Global Service Provider Survey."
"One of the more interesting trends we're seeing in the home automation market is the concept of a provider offering services to end customers over another operator's broadband connection," Infonetics' principal analyst for broadband access and pay TV Jeff Heynen was quoted in a press release. "Verizon has been experimenting with trials of over-the-top (OTT) home automation services as a way to secure revenue from out-of-market customers.
Other report highlights include:
Consumer education is a deployment challenge for an overwhelming majority of survey respondents
Broadband providers are increasingly competing with established home security companies: The bulk of those surveyed plan to offer home security services by 2015
Respondent operators view iControl as the top home automation equipment and software supplier, followed by 4Home, Cisco, Control4 and Huawei
Image courtesy of flickr user Gramophone Maryland.