Which state has the highest percentage of homes that have fiber-to-the-home available to them?
Perhaps the first states that come to mind are densely populated Northeastern states such as Delaware. But if you guessed any of those states, you'd be wrong. According to the USDA, the state with the highest percentage of people with FTTH availability is…
North Dakota.
This might seem counter-intuitive, considering that North Dakota is a very rural state and the cost of deploying FTTH tends to be higher in rural areas. But because North Dakota is so rural, 96% of the state (on a geographic basis) is served by one of 18 small rural telecom companies – and those companies have made deploying FTTH a high priority.
The small companies' rural status also has enabled them to benefit from several USDA programs. According to a report released in late December, the USDA has invested more than $330 million in broadband in North Dakota since 2009, broken down as follows:
$183 million from the Telecommunications Infrastructure Loan Program
$69 million in Farm Bill Broadband Loans
$46 million in grants from the Broadband Initiatives Program, also known as the broadband stimulus program
$31.5 million in loans from the Broadband Initiatives Program
$10.5 million in Community Connect grants
Fiber-to-the-Home Deployment
In the report, Acting USDA Rural Utilities Service Administrator Jasper Schneider credited a "team of partners" for North Dakota's broadband progress. "The vision and leadership of the North Dakota telecommunications providers has prepared the state well for a prosperous future," wrote Schneider.
FTTH infrastructure is only part of high-speed broadband deployment. High-speed connectivity to Internet points of presence is also critical – and in North Dakota, 15 of the small rural telcos worked together to create Dakota Carrier Network, a statewide fiber network to support the telcos' broadband initiatives.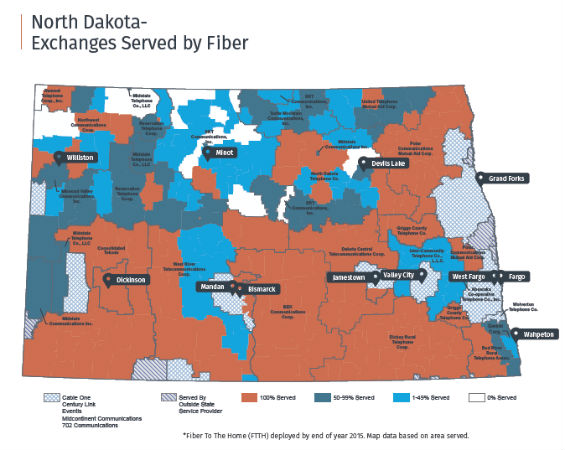 As Telecompetitor has highlighted in recent months, once a telco has deployed an FTTH network, it's relatively simple to upgrade that network to support gigabit service – and that's something the North Dakota telcos also recognize. "We predict… every rural North Dakotan will have access to gigabit speed by 2019," wrote David Crothers, executive vice president and general manager of the North Dakota Association of Telecommunications Cooperatives, in the new report.
Success Stories
The report also includes some brief profiles of how various entities have benefitted from having high-speed broadband in North Dakota, such as:
A crop insurance adjuster can upload and download claims more easily now that it has replaced an unreliable satellite broadband connection with a fiber connection
Several oil and gas related businesses have benefitted, including a pipeline company that now can use the most current version of pipeline leak detection software that allows the company to see pipeline performance metrics in real time
An oil field service company no longer has to prevent employees from simultaneously performing certain tasks, which was previously required to conserve bandwidth on a low-speed connection
Broadband enables a rural hospital to use e-emergency services that allow doctors to confer via videoconference with other doctors in remotely located treatment rooms
A rural K-12 school uses broadband to support high-speed tablet computers and advanced educational programs such as Learn 360 and Brain Pop