A 90-page report released last week from the FCC contains a wealth of data about the Universal Service program – and it's useful data to have at a time when there is a considerable amount of misinformation floating around from people who like to portray the program as a wasteful one.
That's not to say the program hasn't had its problems. In recent years, the FCC has taken several steps to correct the more objectionable aspects of the program – and the new report, titled "Universal Service Monitoring Report 2012," underscores the impact or potential impact of some of the steps the FCC has taken.
Take the high-cost program, for example. Some people like to claim that small telcos have seen a big increase in recent years in the support they collect from the program to help cover the cost of bringing telecom service to areas that are expensive to serve. But if you only look at small landline telcos – the traditional recipients of high-cost support — total disbursements have changed very little since 2003, as the chart below, reproduced from the report, illustrates. Most of the growth in the high-cost fund has come from competitive eligible telecommunications carriers (CETCs), primarily wireless carriers, who have collected funding at the same level of support as the landline carriers — even though their costs are lower and even though the wireless services sometimes duplicate landline services for the same customers.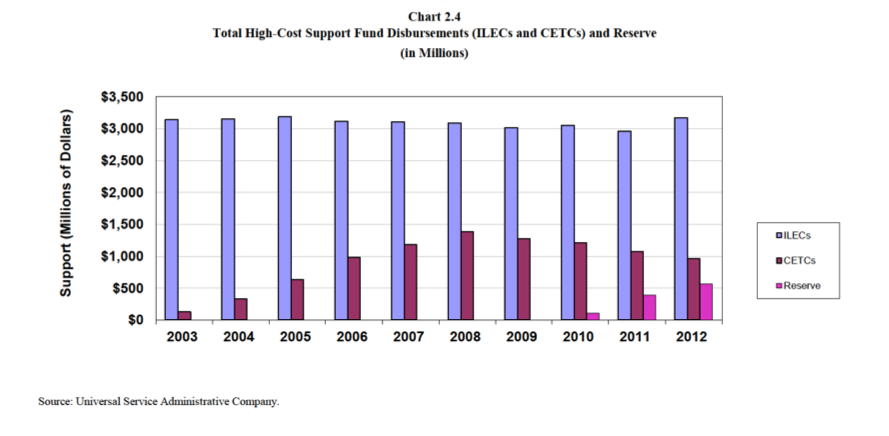 The FCC has taken steps to phase out CETC support but until that phase-out is complete, rural telcos need to be diligent about setting people straight on this issue – and a chart like the one above is a great way to do that.
People who like to portray rural telcos as wasteful also point to some unusually high USF payments that have gone to a handful of companies as if those payment levels were typical. But the new FCC report found only 26 companies that collected more than $3,000 per line per year for 2011. That's a small fraction of the 800 or so small rural telcos that collect from the high-cost fund. And here, too, the FCC is phasing in reforms that aim to limit the total funding any telco can receive to the $3,000-per-year level.
Other interesting information included in the report:
U.S. telecom industry revenues rose from $335 billion in 2000 to $446 billion in 2010. The report breaks revenues into four categories – including local service and payphone revenues, mobile revenues, toll service revenues and non-telecom revenues. Two of these categories – local service/ payphone and toll service — saw revenue declines between 2000 and 2010, with local service/payphone revenues dropping from $120 billion to $102 billion while toll service revenues dropped from $106 billion to $50 billion. During the same period, mobile service revenues increased from $61 billion to $111 billion, and non-telecom revenues climbed from $42 billion to $173 billion.
Interstate switched access minutes of use for incumbent local exchange carriers have declined dramatically since 2000, when they peaked between 550 billion and 600 billion. For 2011, interstate switched access minutes of use were just above 200 billion – a level last seen in 1987.
The FCC estimates the average residential Universal Service fund contribution per line at between $1.02 and $1.25 for 2012.