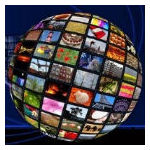 More Americans are using social media while watching television. According to a new study from the Council for Research Excellence (CRE), one of every six times viewers are watching TV they're also using social media. Moreover, around half of social media activity while users are watching TV relates to TV programming.
An independent, Nielsen-funded research think tank composed of 35+ Nielsen clients, CRE, in its, "Talking Social TV" study found that social media attracted 6.8% of survey participants to new shows as compared to 3.3% for returning shows.
CRE also found that social media activity peaks around show premieres. TV specials, sci-fi and sports were the leading program genres when it comes to socially connected TV viewing.
Other key findings included in CRE's latest TV and social media study include:
The profile of someone interacting daily with TV via social media skews 58% female and 20% Hispanic, with a median age of 35;
Hispanics are the demographic group most engaged with social TV while viewers are watching, indexing at 143;
10% of the time a Hispanic viewer is watching a primetime TV show, the viewer is using social media in connection with that show;
Facebook social-TV users skew female and Hispanic, and aged 35-44; Twitter users were found to be more evenly split by gender and among Hispanics and African Americans and more skewed to the 15-24 and 25-34 age groups.
"Social media definitely has become established as a 'second-screen' for a select group of viewers," CRE Social Media Committee chair Beth Rockwood, senior vice president, market resources of Discovery Communications, was quoted in a press release. "Social marketing seems effective in generating conversation around new season premieres, particularly with certain genres of programming."
Nonetheless, traditional TV promos proved much more effective at influencing viewers and helping them discover new shows.