The growth rate of IPTV subscriptions – excluding those for over-the-top (OTT) services – dropped slightly in this year's second quarter, (2Q'15) even though more IPTV subscribers were added on a net basis than in 1Q, according to the latest market data and analysis from Point Topic. The number of IPTV subscriptions worldwide as of end-June totaled 123 million. The proportion of fixed line subscribers who also subscribe to an IPTV service rose.
In percentage terms, worldwide IPTV subscriptions growth continues to outpace that for fixed broadband, Point Topic points out. That's due to the lower base of IPTV subscriptions, as well as IPTV being more recently introduced. Nonetheless, recent growth should bolster market players' confidence, ISPs in particular, the market research company adds.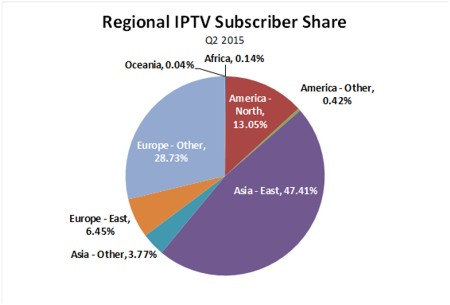 Regionally, there were more IPTV subscriptions in East Asia than any other region. East Asia accounted for 47.4 percent of the global total, according to Point Topic. Western Europe followed with 28.73 percent, with North America ranked third with 13.05 percent.