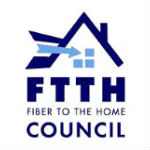 When gigabit broadband comes to an area, prices for broadband services of 100 Mbps or more are reduced by approximately $27 per month, according to a new study about gigabit network benefits conducted by Analysis Group for the Fiber to the Home Council. That's about a 25% drop from the standard price, according to the FTTH Council.
Services providing speeds above 25 Mbps decreased between $13 and $18 monthly when gigabit speeds are offered in an area, researchers found. Those are decreases of 14% to 19%.
Researchers looked at the 100 largest designated market areas (DMAs) in the study.
Gigabit Network Benefits
"The more broadband providers you can choose from, the more prices drop," wrote the FTTH Council in a press release previewing findings of the research on gigabit network benefits.
Researchers noted, for example, that an increase of one additional service provider yields a decrease of about $1.50 in the monthly standard broadband price for Internet plans with speeds ranging from 50 Mbps to less than 1 Gbps.
The press release cites the hypothetical example of an area that went from having one broadband offering to having six competitors. In that example the price would decline by approximately $7.50 – an 8% reduction in the monthly standard price.
If two or more companies offer gigabit service, researchers estimate that the price for service will drop by approximately $57 to $62 per month, or between 34% and 37%.
The FTTH Council Americas press release doesn't detail the likelihood that a community will have more than one gigabit service provider, but it does seem, more often than not, that if one service provider makes plans to offer gigabit service, providers already in the market will upgrade service – if not to a full gigabit, at least to speeds of several hundred megabits.
Austin, Texas, for example, saw a flurry of upgrades when Google Fiber made plans to bring its gigabit service to the area.
Non-Price Benefits
The FTTH Council release also cited other gigabit network benefits noted in previous research including:
Access to gigabit service can increase a home's valuation by up to 3.1%
Per capita GDP is 1.1% higher in communities where gigabit Internet is available
Ratings agency Fitch upgraded Kansas City, Missouri's bond ratings from negative to stable after gigabit came to the community