Broadband analyst firm Point Topic estimates that as of early 2018, some 3 million premises will have access to Gfast networks, offering maximum download speeds varying from 300 Mbps to 500Mbps. Point Topic found 33 telecom operators and ISPs that have made Gfast deployments or are planning to roll out this technology in the near future.
An estimated 29,000 households (a relatively small number that we confirmed with Point Topic) subscribe to Gfast services, the majority of which are in Southeast Asia, researchers said. Fourteen companies are at the Gfast trial stage, having conducted lab and in some cases field trials. Another 13 are deploying Gfast on their networks, with commercial launches expected in the next 1-2 years. Finally, six operators worldwide have live Gfast services.
Gfast Deployments
BT and Swisscom are leading Gfast deployment in Europe. In the UK, BT has committed to covering 10 million premises by 2020, although only 93,000 were live as of early 2018. The operator uses FTTC (fiber to the cabinet) and offers download speeds of up to 330Mbps.
Swisscom has deployed FTTS (fiber to the street) based Gfast services to 70,000 premises, bringing fiber closer to the customer. As a result, the Swiss incumbent offers maximum speeds of up to 500Mbps. Meanwhile, German alternative operator M-net has rolled out Gfast in two districts of Munich. Like BT, M-net offers maximum theoretical download speeds of up to 300Mbps.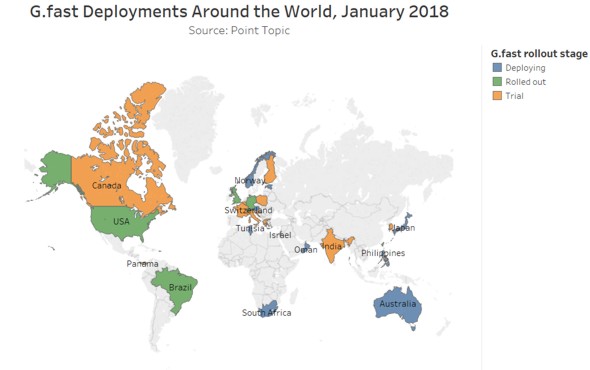 Oi in Brazil and CenturyLink in the US also offer Gfast services, with the former targeting areas of Rio de Janeiro and the latter having launched a pilot in 800 apartments in Platteville, Wisconsin. However, Chunghwa Telecom in Taiwan is currently the largest provider of Gfast services, with an estimated 25,000 subscribers.
During 2018, major telecom firms, including AT&T in the US, NBN in Australia and PLDT in the Philippines, plan to install Gfast on their networks, according to Point Topic. AT&T is targeting 22 metro areas, while NBN expects to cover 700,000 premises initially.
"It's a rapidly evolving market.  Now that the early implementations and some significant testing and pilot schemes are winding up we'll start to see real acceleration in network footprints and adoption," said Jolanta Stanke, Point Topic research director, in a prepared statement.