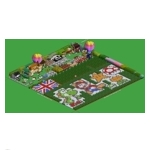 The percentage of kids aged 2-17 using video games is growing faster than their population growth rate.  The U.S. population of kids between 2 and 17 is growing 1.54% while video game playing population of that same age group has grown 12.68%, according to NPD Group's "Kids and Gaming 2011" report.
Some 64 million, or 91%, of kids ages 2-17 are 'gaming' in the U.S. That's up 9 points from 2009, NPD says. The percentage of kids playing online video games has increased across every age group subset, though it's been greatest among 2-5 year-old children, increasing 17 points over 2009. Females and teens ages 15-17 are also driving growth, according to NPD.
"Knowing how kids are spending their gaming time and dollars in both traditional and non-traditional outlets is key to staying relevant to this highly engaged audience," said Anita Frazier, industry analyst, The NPD Group
Kids are gaming more on all Internet-connected devices, but growth has been especially strong on mobile devices and computers. Gaming activity on mobile devices rose from 8% to 38% among kids since 2009, while gaming on traditional portable gaming devices (consoles) rose from 38% to 45%.
The availability of new devices, such as tablets and smartphones running on Apple's iOS and Google's Android mobile operating systems, and the "abundance of content" on offer via free and paid mobile apps is driving increased usage, NPD analysts note.
Nonetheless, kids and their parents spent more than 5x as much on 'physical' games that play across devices as they did on mobile gaming apps for smartphones and other mobile app devices.