Frontier is seeking a new CEO as it seeks to restructure under the weight of a $17.5 billion debt load, according to a report published by Bloomberg. Citing unnamed sources, the report says the company could file for bankruptcy in the first quarter of 2020.
Frontier's current CEO is Dan McCarthy, who has worked for the company for over 25 years and headed it since 2015.
Frontier Bankruptcy?
Some financial analysts have been predicting a Frontier bankruptcy for several years. According to these analysts, companies such as Frontier and Windstream continue to rely, in large part, on copper network infrastructure, which can't support the speeds that cable infrastructure can support. As a result, these telcos will continue to have difficulty competing in both the residential and business market. And unlike companies such as AT&T and Verizon, the second-tier telcos don't have a wireless business to fuel growth.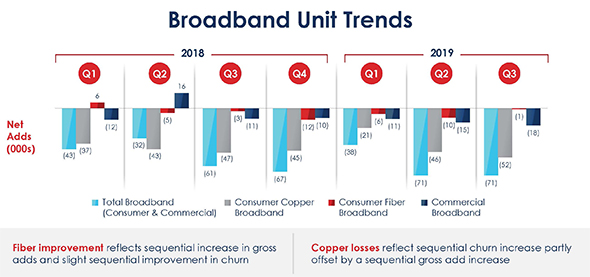 Windstream earlier this year did indeed declare bankruptcy, although it was triggered primarily by a court decision related to the company's telecom real estate investment trust spin-off that potentially would have triggered a large liability for the company.
Meanwhile, Frontier's financial woes already spurred the company to agree to sell its operations in Washington, Oregon, Idaho and Montana to WaveDivision Capital, which has investments in several competitive carriers.
According to the Bloomberg report,  major Frontier investors have been organizing into groups and hiring advisors to work on post-reorganization business plans.
Windstream's Experience
Based on Windstream's experience, Frontier likely would be able to continue operations as usual even if it files for bankruptcy. Since declaring bankruptcy, Windstream has operated, as usual, thanks to debtor-in-possession financing. The company has even made plans to participate in upcoming spectrum auctions with the goal of obtaining spectrum to deliver fixed wireless broadband service.