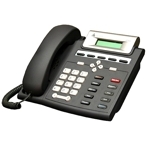 U.S. spending on IP telephony (IPT) and Unified Communications (UC) will grow an average 10% per year between 2011 and 2016, with spending on Hosted IPT services almost tripling, according to the latest InfoTrack five-year forecast.
Hosted IPT spending by U.S. enterprises– businesses with 500 or more employees– will grow at an average 27% rate during the five-year period, nearly twice as fast than the average increase projected for U.S. small- and medium-sized businesses (SMBs), according to the T3i Group division's report. InfoTrack expanded its report on IPT to include UC applications and Hosted IPT in 2005. The UC applications forecast covers shipments and spending across nine separate applications in five categories: Collaboration, Mobility, UC Clients, Messaging and Contact Center.
"In 2011, SMBs represented 46% of the US installed base of IPT lines, but accounted for only 30% of the spending on UC applications. But over the next five years, the growth of SMB spending on UC apps will be more than twice the rate of US Enterprises, which represents the mirror image of what we project happening in the Hosted IPT sector," noted Ken Dolsky, InfoTrack senior program director.
InfoTrack bases these forecasts from a combination of end-user demand research, gathered in connection with their InfoTrack for Unified Communications (IUC) program, along with trend analyses of actual vendor shipments from their market share tracking programs.
"This segmentation is developed based on surveys of the Enterprise and SMB members of the InfoTrack panel of IT and UC decision-makers. For example, US-based Large Enterprises (firms with 2,500 or more employees) accounted for about one-third of the spending on Hosted IPT in 2011, but by 2016, their share will increase to almost half."