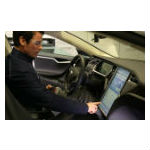 Built-in network connectivity is going to have a big influence on consumers' vehicle purchase decisions, according to a new study from AT&T Drive Studio and Ericsson. Half of all drivers surveyed in the U.S., Germany, Brazil, Japan and China said they would switch automobile brands in order to get Connected Car services.
More than two-thirds (sixty-seven percent) of U.S. drivers indicated they would probably or definitely buy connectivity or Wi-Fi service for their car if it were available, researchers found.
Intent to Purchase a Connected Car
Overall, 72 percent of drivers surveyed said they would postpone purchasing a car by a year in order to buy one from a preferred brand with Connected Car services. Having learned about Connected Car services, nearly two-thirds said they were important features to consider for their next car.
"What we are seeing in this data is a clear signal that Connected Car features and services are becoming an important factor in a consumer's purchase decision," Ericsson CMO Arun Bhikshesvaran was quoted as saying. "The study shows that a transformation is occurring on a global scale, to a world where consumers expect Connected Car services across all markets and models.
"The research shows that we are just now entering a new era of Connected Car innovation that will integrate all aspects of a person's life, which is why Ericsson is working with the AT&T Drive Studio to provide our award winning, cloud-based Connected Car solution and our international presence to implement connected car services globally."
Connected Car Awareness
Consumer awareness of connected car services is high, the market researchers found. Customer awareness for six connected car features reached or exceeded 50 percent:
Roadside Assistance (74%)
Navigation and Real-time Traffic (72%)
Remote Start (71%)
Streaming Music (70%)
Usage-based Insurance Tracking (52%)
Wi-Fi Hotspot (50%)
Ericsson is providing a cloud-based information platform for the AT&T Drive Platform that enables automakers to choose to run customized connected car services. "The race is on for automakers to compete for customers globally through connected car solutions," Chris Penrose, AT&T Mobility senior vice president, Emerging Devices, commented. "The AT&T Drive platform, with collaboration from Ericsson and a host of other players in the ecosystem, is the most robust set of solutions at automakers' disposal today."