Polling by Morning Consult cited by NCTA: The Internet & Television Association finds that Americans are satisfied with their broadband home Internet service and feel that improvements will continue. In addition, the broadband satisfaction survey found support for helping those who don't have service or can't afford it.
The report found that most people think broadband companies are doing a good job:
86% of respondents rate their Internet as excellent or good.
84% of respondents are satisfied with their download speed, 82% with their signal strength/network range, 84% with the security of their service and 82% with their service's reliability.
73% think broadband companies will continue to improve to meet future need, with 26% saying they are very confident.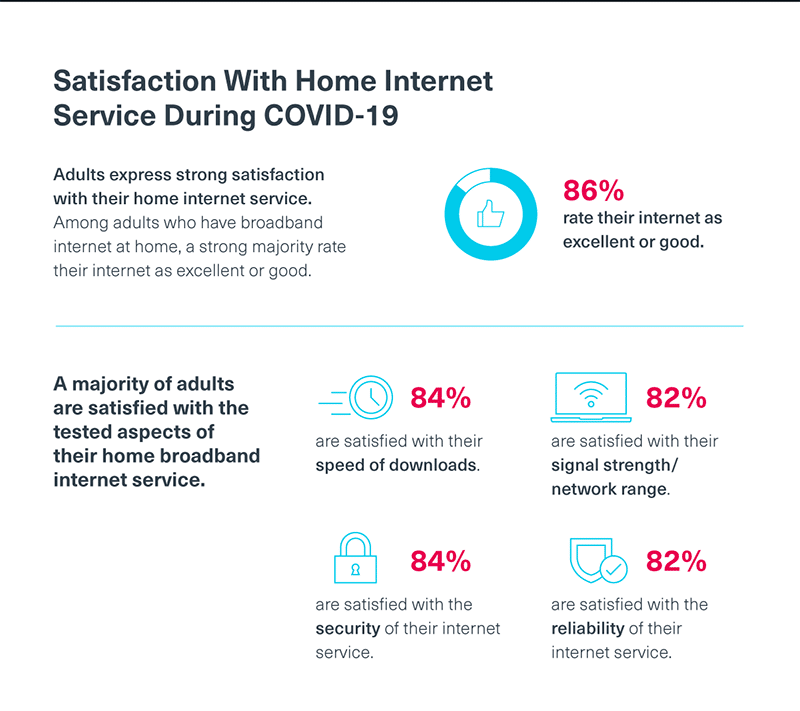 In addition to a high level of broadband satisfaction, the survey also found support for bringing service to others:
67% think that government funding should first be focused on providing services to those who don't currently have service available to them.
59% think Congress should permanently fund help for low-income Americans to purchase broadband. One-third strongly supports doing this.
It's not clear whether NCTA sponsored the Morning Consult survey or is just calling attention to the results. The online broadband satisfaction survey, which was conducted in late April, had a weighted sample size of 2,200 adults.
The survey results are not surprising, considering that broadband kept millions of people learning, working and entertained during the COVID-19 pandemic, despite huge increases in traffic. In March, for instance, Comcast reported that the pandemic increased its peak Internet traffic up 32% in 2020.
In November, the OVBI report from OpenVault reported a 110% increase in "power users" who use 1 TB or more of data. This group rose to 8.8% overall. There was a 172% increase in extreme "power users" of 2 TB or more of data (to 1% overall) and an increase of 124% in gigabit subscribers (to 5.6% overall).