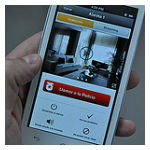 Parks Associates found that 12% of smart home devices in U.S. households experiencing problems are not being fixed. This is considerably more than the 5% reported in the previous three years, according to "360 View: Supporting the Connected Consumer."
The most persistent problem across all device types is connectivity. This, the firm says, suggests that a support solution that warns of potential or impending connectivity issues is valuable.
"The number of reported problems declined, but the jump in unresolved problems points to issues getting more complicated and difficult to diagnose," said Parks' Senior Analyst Patrice Samuels in a press release. "Strong value is achieved from the smart home when devices communicate with each other, but diversity in device technology and communication protocols adds complexity to the smart home and creates challenges in achieving seamless communication."
Other findings of note from the report:
79% of smart home device owners set up at least one device by themselves or with the help of friends and family.
Only 16% of consumers who set up computing and entertainment devices themselves report that the process is difficult.
Only 14% of smart home device owners report experiencing one or more problems with a device in 2018.
72% percent of consumers who paid one-time fees for support of smart home or computing/entertainment devices paid $50 or more for their service.
This research complements Park's findings from April that said that problems with smart home devices are growing. The firm found that 34% of devices experienced problems in 2017 compared to 28% in 2016.
The increasing number of do-it-yourselfers could be exacerbating repair and maintenance issues. In June, GfK Research found that 52% of consumers want to install their own smart home products. That's an increase of nine percentage points compared to 2015. In addition, 57% of consumers want to maintain devices themselves, compared to 51% in 2015.
The bottom line is that the ecosystem of device makers and service providers is still grappling with the explosion of smart home devices. The big question is a simple one: What happens once consumers buy these things?