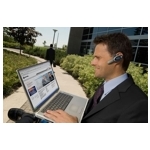 Information security and user privacy, or rather the lack thereof, continue to be major sources of concern associated with employees making use of personal electronic devices and software applications for work purposes – the BYOD (Bring Your Own Device) trend, according to new research from Good Technology. That's especially true for small and mid-sized businesses, who typically don't have the IT and telecommunications resources of their larger counterparts, researchers found.
Conducting a global, online survey of 459 IT decision-makers at mid-market organizations – annual revenue between $200 million and $999 million – mobile security provider Good Technology found that "organizations with full BYOD systems have twice the security concerns [of] those who don't."
Mid-market companies are "the lifeblood of the global economy," Good Technology points out in an October 6 press release, employing more people and generating more annual revenue than the Fortune 100 combined.
MDM Adoption
Support for BYOD by mid-market organizations is generally strong across economic and industry sectors, with mid-market organizations in most industries having instituted formal BYOD support. Furthermore, the majority of mid-market organizations have deployed mobile device management (MDM), according to Good Technology's "Mid-Market Mobility Trends Survey."
Market researchers found, for instance, that formal support for BYOD exists among 59 percent of mid-market organizations in the financial services sector, 58 percent of mid-market healthcare organizations and 45 percent of government and public sector organizations.
Mid-market organizations' BYOD support was highest in the legal (72 percent), communications (69 percent), non-profit (67 percent) and education sectors (65 percent). It was lowest in the energy and utilities (35 percent) and wholesale industries (33 percent).
Interestingly, user privacy concerns among mid-market organizations with formal support for BYOD were nearly 50 percent higher than they were among those that don't formally support BYOD. Sixty-five percent of users working in mid-market organizations with formal BYOD support are concerned about privacy. The same is true for just 35 percent working at mid-market organizations with no formal BYOD support.
While it is "sufficient to protect" employees' personal mobile devices, MDM "can be perceived as intrusive by end-users," according to the Good Technology study's authors. "Two out of the top three post-MDM mobility initiatives are all about the apps and data – how they're protected and securely distributed," they continue.
Viewed as growth drivers, mid-market organizations are looking to mobile apps to gain competitive advantage. Securing them is a priority, Good Technology found. Mid-market organizations across all industries surveyed have rolled out three or more custom apps in the past 12 months.
Furthermore, mid-market organizations across all 15 industry sectors covered in the study plan to add mobile security or app management capabilities within the next year. Nearly 65 percent of those planning to deploy mobile app management plan to deploy three or more apps in the next year.